Intense rivalries highlighted the second day of the seventh Diamond Mineral Water International Hockey Festival at the National Gymnasium yesterday setting the platform for a riveting finale tomorrow.
Supernova, the national Under-21 side, bounced back from their 12-1 drubbing on the opening day against Hikers to end deadlocked 3-3 against the Young Men's Christian Association (YMCA). This matchup had a huge billing as both sides were equally talented with  speed being their biggest asset.
Also defensively and offensively both teams were sound while players on each side sent the Gymnasium into uproar with the fancy stick work. The Under-21s scored first with a well timed set piece from the corner before Mark Sargeant drilled it to the back of the net in the seventh minute.
YMCA's captain Rohan Thomas replied in equally convincing fashion two minutes later. After these initial goals there were some shots on target that were saved or deflected by the goalies before the half ended one-all.
Thomas sent his team into the lead three minutes after the half in the 23rd minute as his team started to dominate proceedings. Travon Younge answered back for Supernova in the 27th minute of play while Akeem Rudder (36) and Aroydy Branford (38) of YMCA and Supernova respectively ensured that the game ended with a tied score line.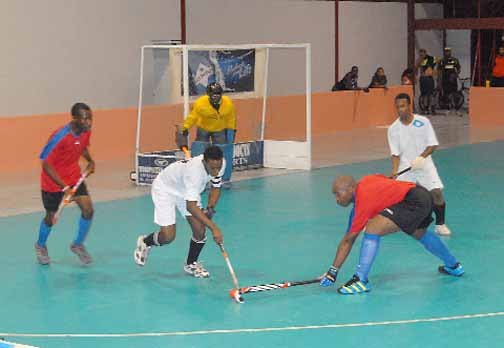 In the Veterans games Hic…Hic…Hickers suffered two losses, one to Old Old Fort and the other to Georgetown Cricket Club (GCC). Old Old Fort beat them 5-2 with Wayne St. Jules (6th), Gavin Hope (24th), Dexter Wyles (27th ), Ivor Thompson (30th) and Dwayne Alleyne (40th) scoring; Sheldon Corlette (7th) and Kevin Adams (9th) were the goal scorers for Hic…Hic…Hickers.
Alan Fernandes (7th, 11th, 16th, 23rd, 37th) found the back of the net five times for the GCC Veterans while he got support from Charles Carter (17th) and Philip Fernandes (28th). Brian Asregado (7th and 20th) and James Mentore (32nd) scored Hic…Hic…Hickers three goals.
The GCC Veterans drew 5-5 against Trinidad & Tobago's Fatima. Philip (3rd and 31st) and Alan Fernandes (7th and 36th) scored two apiece while Devin Hooper contributed in the 20th minute. Fatima's Roger Daniels (12th and 25th), Nicholas Wren (36th and 39th) and Dean Nieves (27th) were the scorers.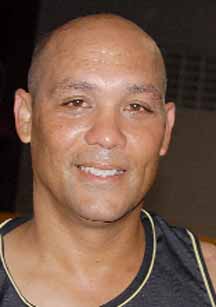 The age old rivalry between Old Fort and GCC gained more momentum after the Old Fort whipped GCC 7-3. John Abrams (14th, 20th, 36th) scored a hat-trick of goals as GCC's defence was breached at will. Aderemi Simon (2nd and 37th) chipped in with a pair while Jason De Santos (38th) and Jonathan Roberts (29th) had one each.
Shaka Gill (16th), Kevin Spencer (17th) and Dwayne Scott (39th) scored for GCC.
On the other hand Malvern's male and female teams registered easy wins over Barbados YMCA and Hikers women's team respectively. The Malvern males triumphed over Barbados YMCA 5-3 with Nicholas (13th), Wayne Legerten (14th), Colin Byron (27th), Darryl Hume (28th) and Roger Daniels (40th) scoring.
Timothy Parris (8th), Dario Lewis (20th) and Romario Howell (37th) scored for the Bajans. In the ladies encounter Malvern won 2-0 with Britanny Hing (35th) and Roseanne Reyes (36th) finding the bacj of the net.
Meanwhile at the presentation ceremony representatives of the major sponsors, along with president of the Guyana Volleyball Federation (GVF) Lenny Shuffler lauded the Guyana Hockey Board (GHB) for putting together the high quality tournament. Demerara Distillers Limited (DDL) Larry Wills, Ansa Mc Al's Darshanie Yussuf and Digicel's GavinHope all relayed that their respective companies were pleased to be associated with the festival.
Around the Web