Also advancing were Alexander Village, West Front Road and Island All-Star.
In the exhibition matches of the tournament that consists of eight teams divided into two groups of four; Clippers, Guinness Bar and Upper Level won their respective group fixtures.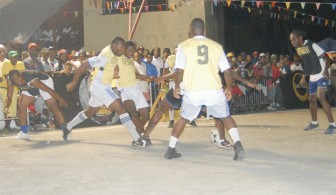 Patrons in large numbers that turned up at the National Cultural Center tarmac were treated to  exciting football which resulted in 21 goals being scored.
Two specific games highlighted the evening's quartet of quarter-final matches. Firstly, an exciting end-to-end encounter between West Front Road and Hope Street Tiger Bay, eventually finished 3-2 in favour of the former, thanks to a double strike from Michael Oie.
In the four exhibition games, Guinness Bar's 7-2 drubbing of YMCA was the most notable fixture.
Semi-final action and exhibition in the tournament continues at the National Park tomorrow evening.
Summary of scores from Saturday evening:
Game 1:  Clippers 2 v/s Media 1. Goal Scorers; Clippers – Timothy Inford 5th and 19th minutes. Media – Chris Comacho 17th minute.
Game 2: Guinness Bar 7 v/s YMCA 2. Goal Scorers; Guinness Bar – Dennis Edwards 5th minute and Odwin Hudson 4th and 8th minutes, Raphael Edwards 13th and 18th minutes, Carl Edwards 14th minute and Devon Roderts-Vernon 23rd minute.
YMCA – Roberto Osbourne 1st minute and Randy Persaud 25th minute.
Game 3: Upper level 1 v/s Oasis 0. Goal Scorers; Upper level – Jermaine Lingar 4th minute.
Game 4: Alexander Village 2 v/s Queen Street –Tiger Bay 1. Goal Scorers -Alexander Village
Sheldon Gurric 6th minute and Phillip Rowley 24th minute. Queen Street – Tiger Bay – Alpha Fleterman 7th minute.
Game 5: Sweet point 1 v/s Customs 1. Goals Scorers; Sweet Point – Ravi Chand 4th minute. Customs –   Rayon Grant 6th minute.
Game 6: West Front Road 3 v/s Hope Street-Tiger Bay 2. Goal Scorers; West Front Road –
Michael Oie 6th and 18th minute, Hubert Oie 23rd minute. Hope Street Tiger Bay – Jewel Lloyd 5th minute and Calvin Shepherd 24th minute.
Game 7: Island All-star 0 v/s East Front Road 0. Island All Star won on penalty kicks 2-1.
Game 8: Back Circle 1 v/s Broad Street 0. Goal Scorers; Back Circle –   Lloyd Kennedy 18th minute.
Around the Web