Guyana's most accomplished female athlete, Aliann Pompey, recently  revealed to Stabroek Sport her thoughts about her year along with plans for 2012, including the Olympic Games  in London.
In the exclusive interview conducted via e-mail, the 400 metres specialist described her 2011 year as a hard year.
"I think it was a very hard year.  I was injured for the most part… Thinking back on it, it's hard to focus on much else, but I did reach some milestones: I was able to compete on my home soil before I retired and I was able to transfer my skills off the track, securing a job doing something that I love, both of which I think are invaluable," Pompey told Stabroek Sport.
The Pan American bronze medalist while defining her year as a rough one also elaborated on the extent of success she believed she accomplished during the injury-riddled period.
"It was an interesting year to say the least. I think some things went well and others didn't. In my sport, it wasn't one of my better years.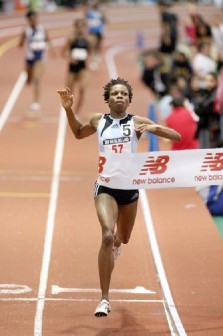 "However, off the track, I was able to figure out what life would be like as track plays a diminished role. In a different way, I grew to appreciate what I was able to do in my sport as I took time to reflect on what I've accomplished while sharing the knowledge that I've gained with others," she stated via e-mail.
Stabroek Sport also asked Pompey whether  she thought that her injuries had affected any of her performances this year.
"I believe the injury to my Achilles was the only factor in my performances this year," the 33-year-old athlete  stated.
Meanwhile,  with the Olympics in sight and being the only athlete in Guyana's history to qualify for a World Championship finals (Indoors), Pompey spoke about her plans for 2012.
"Athletically, I'll do few meets indoors, and try to qualify for Worlds (Indoors Championships) while the big focus will obviously be London 2012 (Olympics)," Pompey declared.
With the double 400 metres Commonwealth medalist (gold and silver) already making the qualifying standards for the Olympics and running with a season's best of 51.6s at her Club Nationals and the 'A' and 'B' standard time at 51.55s and 52.35s respectively, Stabroek Sport asked Pompey what the Guyanese public should expect from her at the Summer Olympics next year.
Olympics 400 metres finals
"I'm gunning for the finals in next year's Olympics. I don't want to commit to running no specific time. I just want to be able to run whatever it takes to get to the finals," the 400 metres specialist stated.
Pompey had delighted the Guyanese public with a spectacular 200 metres run on home soil, thrashing the local girls by approximately 10 metres, thanks to the President/Jefford Track Classic earlier this year in Linden. She stated that she hopes to compete on home soil one last time but has plans for Guyana once the Ministry of Culture, Youth and Sport can bring them to life.
"I hope that I can compete at home before I retire but even if it doesn't work out that way, it's not the end of it all.  On one of my trips home I'd spoken to the Minister of Culture, Youth and Sport (Dr. Frank Anthony) and we talked about me doing a track and field clinic or training camp.
"It's something that I'm passionate about and I want to make sure that it happens.  I've been fortunate enough to have knowledgeable people in my corner and I showed my appreciation by learning as much as possible from them. I can now be a valuable resource to the coaches and athletes home and I encourage them to take advantage of that," she said.
Meanwhile as the Central America and Caribbean (CAC) silver medalist enters the twilight of her career, alluding to earlier interviews with her, Stabroek Sport asked Pompey if next year would be her last in athletics competition.
"My goal is to do well and go out with a bang. I've had the joy and privilege to compete as long as I have, at the level that I have, with the resources that I've had available.
"I have no regrets. I still have the drive now that I did when I first started, and I will until I hang up my spikes," Pompey declared.
It is possible that she could accomplish what another Guyanese athletics icon, James Gilkes,  did in  Track and Field between the mid-70s and  1980, which would be to reach the Olympics final with the possibility of a podium finish.
Around the Web