BIRMINGHAM, England, CMC – Asafa Powell will return to indoor competition next year, when he runs on February 18 at the Birmingham Grand Prix.
The Jamaican sprinter has not run anywhere on the indoor circuit over the last seven years, and said the radical shake-up of his competition programme was part of a bold attempt to claim his first individual Olympic medal in London in 2012.
"My coach and I have been speaking about the ideal preparation for next year's Olympics and we think doing an indoor season is the best move for me," he said."To prepare for a major championship you need to be racing against the best people in the World."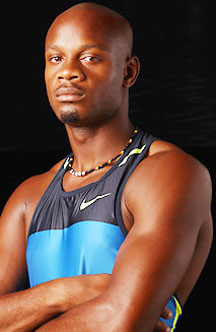 Powell said he expected to face stiff competition from other runners at the Grand Prix meet.
"The calibre of athletes there has always been strong and if I'm going to be challenging for medals, I need to be racing against the best opposition all the way up until the Olympics," he said. "It's not long now until the Games so every minute counts. I'm taking that attitude into everything I do so, believe me, when I get out onto that track in Birmingham I'm determined to put on a show.
Hopefully, everyone's going to see something really special."
Powell is also expected to return to the West Midlands with the Jamaica team that will be taking part in the 2012 Olympic Games in London.
"It'll be a good opportunity to have another look around and get familiar with the city," he said.
"I've always felt really comfortable in Birmingham so I should be feeling really positive and ready to go when the Olympics come around."
In July this year Powell stormed to victory in the men's 100 metres in a time of 9.91 seconds at the outdoor Birmingham Grand Prix, the ninth stop on the prestigious IAAF Diamond League circuit.
Around the Web