Two-time winners of the annual Kashif and Shanghai tournament Milerock Football Club is quietly confident of success at this year's 22nd annual tournament.
The mining town team, won the inaugural tournament in the 1990-1991 season and triumphed again in the 1997-1998 season.
Since then the club has not tasted success in over a decade and has been eliminated in the first round for the past three seasons.
This year, however, the club is quietly confident of a change of fortunes.
Manager of the club Claude Williams recently spoke with Stabroek Sports during the team's practice match against fellow Linden club Netrockers at the Wisburg School ground in Wisroc. Williams spoke of his team's preparation, their strength, weaknesses and also their chances of winning the tournament.
He revealed that the team has been preparing for quite some time but said their training intensity has really picked up over the last week.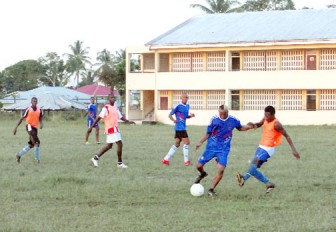 "The preparation is now really getting on its way. We started to prepare for this tournament months ago. We tried to get some morning sessions but they weren't going too good but we started really preparing properly from last week in terms of intensity."
He disclosed that 32 players have been training in a diverse squad that is made up players with some national experience at senior and youth levels for Guyana along with some youngsters from around the Linden area. A final 22-man squad will be named later and Williams elaborated a bit on the key players in the Milerock FC set-up.
"We have Ryan Crandon and Kevin Sullivan, who was in the Golden Jaguars squad during the just-concluded second round of the 2014 World Cup qualifying campaign, before the foreign-based players came in.
National Under-23 mid-fielder Clive De Nobrega, who played in the Digicel Caribbean Cup and Keiron Cameron also a national under 23 player, will be important for us in this competition," Williams disclosed
When asked what he views at the strength and weaknesses of his team going into the tournament Williams stated that defense will be his team's key.
"Our strength is in our defense. We intend to be very compact and disciplined in our formations, which will hopefully wear the opposition down and hit them on the counter attack.  "But of course winning football games is all about scoring goals and we are also working on finding the right balance in our attacking options," Williams explained.
Finally, when asked what the overall mood in the camp was along with how the locals have been gravitating towards the team, Williams articulated a positive outlook towards those respective facets.
"Mood in the camp is real high and we are all working towards a common goal which is to win the competition. "In past years in my view we defeated ourselves as we crashed in the group stages. So, like a dark-horse from the side, we are confident of springing a surprise this time. "Lindeners are enthusiastic about the team and are backing us to go far. So all we have to do is repay that belief by putting out good performances on the field," he added. Milerock will open their campaign on December 23 at the Mackenzie Sports Club ground.
They will play the winner of the December 19 clash between Bakewell Top XX and Seawall FC.
Around the Web