MELBOURNE,  (Reuters) – Shane Warne is confident he will be fit to make his return to cricket       in Australia's revamped Twenty20 competition this weekend despite burning his bowling hand while cooking.
The 42-year-old, who had retired from all cricket earlier this year, has been the main marketing face of the Big Bash since announcing his return and is scheduled to play his opening match at the Melbourne Cricket Ground on Saturday.
A prolific user of Twitter, the leg-spinning great posted a picture of his blistered right hand on his page (www.twitter.com/warne888) along with a plea for remedies.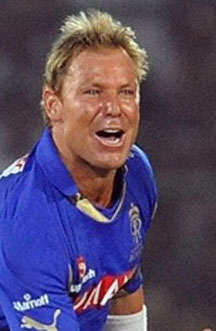 Deciding eventually to seek conventional medical treatment, Warne said he had a "95 percent chance" of playing his first cricket in Australia since retiring from test cricket at the start of 2007.
"They just drained all the blisters and then they cut them all open so they wouldn't fill up again," Warne told reporters on Tuesday.
"There's just a couple of awkward ones on the spinning fingers. But hopefully I've got four days and it should be fine by Saturday."
Warne took 708 test wickets and remains one of his country's most popular cricketers.
His signing for the Melbourne Stars was a major boost to the Big Bash League, which begins in Sydney on Dec. 16.
Around the Web