SYDNEY,  (Reuters) – Australia will hold a training camp for their struggling batsmen before naming the side for the opening test against India on Dec. 26, team performance manager Pat Howard said yesterday.
Australia's test team, particularly the batting line-up, has been the subject of much scrutiny ahead of the four-test India series after they crashed to their first test defeat to New Zealand on home soil in 26 years on Monday.
Rattled in South Africa last month, when they were skittled for 47 in the first test, the Australians were bowled out for 136 last weekend in their first innings in Hobart and collapsed from 159-2 to 233 all out to lose the match against New Zealand.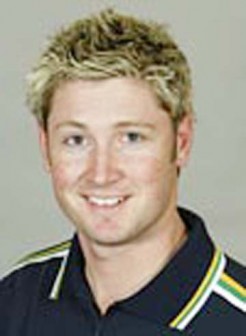 With the revamped domestic Twenty20 competition taking centre stage over the next couple of weeks, the batsmen had no opportunity to prove their form in Sheffield Shield first class cricket before the test.
Captain Michael Clarke, Shane Watson, Ricky Ponting, Mike Hussey, Brad Haddin, uncapped all rounder Dan Christian and, if fit, Shaun Marsh will all take part in the session in Melbourne from Dec. 20-22.
Cricket Australia also said that embattled opener Phil Hughes has elected not to take part in the Twenty20 competition to focus on the longer form of the game.
Hughes and fellow top order batsmen Usman Khawaja and David Warner, who all played in both tests against New Zealand, will face the Indians in their second tour match next week.
"The camp is designed to complement rather than duplicate the preparation of those batsmen playing in the Chairman's XI in Canberra," Howard said.
All rounder Shane Watson has meanwhile indicated that he should be able to bat against India in the first test at the Melbourne Cricket Ground (MCG) but was unlikely to be fit to bowl because of a hamstring injury.
Watson, Australia's player of the year for the last two years, missed the New Zealand tests after sustaining the injury last month in South Africa, where he proved his increasing importance as a bowler with five wickets in the first test.
"My leg should be right," Watson told Fox Sports News. "At the moment I'm just trying to get up to running speed and being able to bat over the next couple of weeks. But it would most probably be primarily as a batsman."
Backup wicketkeeper and top order batsman Tim Paine has been ruled out of the entire series against India after being forced to undergo surgery on an injured finger.
Paine has long been the heir apparent to Haddin in the test side but been unable to put any pressure on his 34-year-old rival this season after injuring his right index finger in August.
"It is clear that the fracture has not healed as expected and the best course of action is for Tim to undergo further surgery," said team doctor Trefor James.
"This will be performed today and it is expected that Tim will be unavailable for a further three to four months."
Top order batsman Marsh was ruled "unlikely" on Tuesday to be fit for the Boxing Day test because of a back injury.
India, who have never won a test series in Australia, begin their first tour match in Canberra  today.
Around the Web