By Iva Wharton
The Georgetown Football Referee Association was officially launched on Sunday at the Georgetown Football Club Ground (GFC) and President Otis James said that the body's focus is on the continued development of the sport.
James said that the body was formed in September.
"I am in a starting process with about 12 referees expecting to reach about 20 at the end of the following week and I will build on that until I reach the maximum of 50 percent of the referees," he told Stabroek Sport.
Three of the 12 referees are females and that number is expected to increase, James said.
The FIFA accredited referee said that the association was looking at the development of  football because the sport was the channel through which footballers can elevate themselves to become coaches and referees."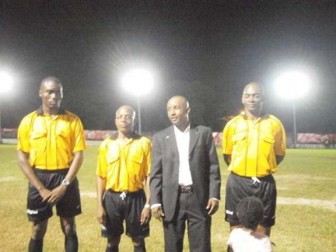 For many players he said there is nothing after football.
Players, he said, need to understand that they can contribute after their playing days are over.
"We just see it fit to enhance the situation by launching the GRFA so that we can get people to participate and get more involved into football instead of just being hanging around because they can be useful to the sport," he declared.
James said that the GFRA was answerable to the Georgetown Football Association (GFA) and no other agency. According to James, in the future the body may join with the Guyana Football Federation, but he maintained that it is only answerable to the GFA at present.
He also stated that the group is primarily receiving funding from the GFA.
"The GFA has already started by giving us over $300,000 in uniforms, equipment and also a venue for us to train at nights because during the day you don't get any time."
The body, he said, has begun training at the GFC Ground, Bourda three days per week; Tuesdays, Thursdays and Saturdays under floodlights.
These are things he said that most clubs are unable to afford and if the GFA can afford to lend support then that was commendable.
Other members are; Milton Fraser Vice President, Kayode Lambert, Secretary, Wayne St. Jules and Andre Moonsammy Assistant Secretary.
Around the Web