West Front Road and Back Circle will clash in the final of the 2011 Guinness-in-the-Streets tournament tomorrow, after both sides recorded similar 1-0 semi-final victories in their respective matches at the National Park Tarmac on Tuesday evening.
In the exhibition matches of the tournament that consists of eight teams divided into two groups of four,  Guinness Bar and Upper Level won their semi-final games versus Clippers Barber Shop and the Media and therefore qualify  for the exhibition final.
In what seemed to be two of the more highly skillful encounters of the entire competition in which the attacking and defense plays of all four teams were of good quality, it needed two moments of individual brilliance to propel West Front Road and Back Circle into the final.
The first semi-final saw an 11th minute strike from Michael Oie who  scored two goals in his team's 3-2 quarter-final triumph over Hope Street Tiger Bay, propelling the West Ruimveldt side to victory.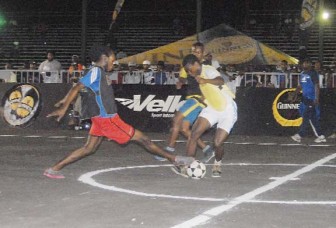 In the second semi-finals a 3rd minute goal from Andy Duke aided Back Circle who ousted last year's champions Broad Street in the quarter-finals, in clinching a place in the final.
Upper Level's 5-3 drubbing of the media team was the highlight of the two exhibition matches.
Speaking to Stabroek Sport after the semi-finals, one of the tournament coordinators, Marlan Cole, spoke of his delight that the tournament has gone well and encouraged fans to come out to the Friday finals.
"On behalf of the coordinators we would say thanks to supporters and players for the part they have played in the tournament so far. They both have been very disciplined and have kept the competition incident free. I would like to thank the media for the role they have played so far and come Friday I encourage patrons to come out and see some good football."
The winning team from the main and exhibition facets of the tournament will walk away with $500,000 and $100,000 each.
Summary of the scores from Tuesday evening:
Game 1: Upper Level 5 v/s Media 3. Goal Scorers – Upper Level, Eric Moses 7th and 19th minute, Ronson Williams 10th minute, Jermaine Fingal 11th minute, Own Goal (Media) 13th minute.
Media, Errol Squires 12th and 14th minute and Esan Griffith 20th minute.
Game 2: Guinness Bar 1 v/s Clippers Barber Shop 0. Goal Scorers – Guinness Bar, Odwin Hudson 23rd minute.
Game 3: West Front Road 1 v/s Alexander Village 0.Goal Scorers – West Front Road, Michael Oie 11th minute.
Game 4: Island All Star 0 v/s Back Circle 1. Goal Scorer – Back circle, Andy Duke 3rd minute.
Around the Web