Young and upcoming boxing star Imran 'Magic' Khan believes he can do Guyana proud at the 2012 Olympics once his Amateur International Boxing Association (AIBA) training camp stint in Cardiff, Wales from February 18 to March 10 goes well.
"I will make my country proud by trying very hard to do my best," the 19-year-old amateur boxer said in an interview with Stabroek Sport.
With his recent selection by the Guyana Amateur Boxing Association (GABA) for a training camp in Cardiff, Wales from February 18 to March 10, Khan believes that the camp will do a lot to help his development and chances at the Olympics.
"Doing good at the Olympics depends on how I stand and the exposure I get from the training session in England…just want to go there and keep learning," Khan told Stabroek Sport.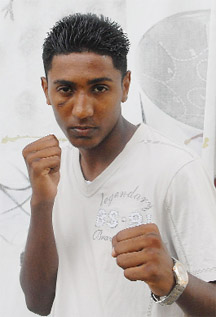 Khan who grew up in trying times in Albouystown and hails from the Harpy Eagles Gym in his neighbourhood stated that his main objective in attending the camp is to do his best to surprise the Guyanese public while making something of himself.
"I'm going there to participate as part of the Road to London training programme and I just want to go there and do my best so I could surprise everybody in Guyana by training hard so that I could make things better for me and achieve something in life," he declared.
Prior to his selection to the team Khan who says that he is not really nervous about participating in the upcoming training camp reflected on his gold medal experience at the Ronald Wilson memorial games in Barbados.
"It was a good experience for me as I learned a lot and although it was among Caribbean boxers I still learned things like defence and to use my jabs better," the amateur boxer stated.
When asked by Stabroek Sport about his current preparations, the Bolivarian Alliance for the People of our Americas (ALBA) bronze medallist stated, "well right now I'm just doing off road sessions with my gym," he said.
Khan also expressed gratitude to President of GABA Steve Ninvalle for selecting him for the training camp in Wales while thanking his father for the support he has shown for his boxing career so  far.
Meanwhile Khan who never saw himself being a boxer concluded by saying, "I never saw myself reaching this level in boxing. I went through a lot of rough times and use to have hard times defending myself in the street, so to see myself going places is a good feeling."
Around the Web