Devendra Bishoo and Subrina Munroe copped the Guyana Cricket Board (GCB) male and female Cricketer-of-the-Year awards respectively when the Board held its 15th annual awards ceremony at the Umana Yana, Kingston, Wednesday evening.
Right arm leg spinner Bishoo and Munroe, a medium pacer, made their international debut for the West Indies after they impressed selectors during the respective West Indies Cricket Board (WICB) Regional tournaments.
Bishoo was also named this year's International Cricket Council's (ICC) Emerging Cricketer-of-the-Year.
The 26-year-old Bishoo, who made his debut during the ICC World Cup in India before making the Test squad for the home series against India and Pakistan, has played 10 ODIs, picking up 20 wickets at an average of 23.80. He has also played 10 Test matches, scored 118 runs at an average of 10.72 with his highest score being 26 against India in Jamaica.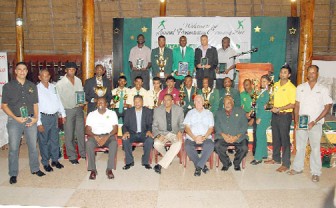 The Albion Community Centre Cricket Club player has already picked up 39 wickets in his 10 Tests at an average of 36.23 with his best figures being the 5-90 against Bangladesh in Dhaka last month.
Munroe, 26, on the other hand, has only played four ODIs. However, she was a member of the team which won their ICC World Cup qualifying matches. She has taken one wicket for 68 runs.
When Bishoo was asked about his thoughts on receiving the award he said that "it is always an honour when you are being recognized by your governing body of the sport you play, whether it is cricket, football, table tennis or even volleyball and I must say thanks to those who expressed their confidence in me, which enabled me to play for Guyana and now the West Indies."
He also made a call to young cricketers to be focused on their goals since he said dreams come through if one works hard. He also implored them to stay away from drugs.
Meanwhile, recently appointed T20 captain Christopher Barnwell was named the Most-Improved-Player and received the Lance Gibbs trophy and his club, Demerara Cricket Club (DCC), was adjudged the Club-of-the- Year, receiving the President's trophy.
Barnwell, club mate and national wicketkeeper Derwin Christian and June Ogle-Thomas also received Special Awards in recognition of their selection to the West Indies team. Nigel Duguid also received a Special Award for his elevation to the International Panel of ICC Umpires.
Sean Devers of Kaieteur News and Colin Benjamin of Stabroek News were rewarded for their contributions to cricket as journalists.
Among the other awards were: DCC- Club-of-the-Year
(President's Trophy); Christopher Barnwell- Most Improved Player (Lance Gibbs Trophy); Amir Khan – Junior Cricketer-of-the-Year (Roy Fredricks Trophy); Assad Fudadin – Senior Domestic Cricketer-of-the-Year (Rohan Kanhai Trophy); Leon Johnson- Senior Regional Cricketer-of-the-Year (Clive Lloyd Trophy); Ransford Beaton – Emerging Cricketer-of-the-Year; Tagenarine Chanderpaul- Regional Under-15 Cricketer-of-the-Year.
Around the Web