(This is an abridged transcript of Rahul Dravid's speech at the Bradman Oration on Wednesday in Australia.)
Thank you for inviting me to deliver the Bradman Oration; the respect and the regard that came with the invitation to speak tonight, is deeply appreciated.
I realise a very distinguished list of gentlemen have preceded me in the ten years that the Bradman Oration has been held. I know that this Oration is held every year to appreciate the life and career of Sir Don Bradman, a great Australian and a great cricketer. I understand that I am supposed to speak about cricket and issues in the game – and I will.
Yet, but first before all else, I must say that I find myself humbled by the venue we find ourselves in. Even though there is neither a pitch in sight, nor stumps or bat and balls, as a cricketer, I feel I stand on very sacred ground tonight. When I was told that I would be speaking at the National War Memorial, I thought of how often and how meaninglessly, the words 'war', 'battle', 'fight' are used to describe cricket matches.
Yes, we cricketers devote the better part of our adult lives to being prepared to perform for our countries, to persist and compete as intensely as we can – and more. This building, however, recognises the men and women who lived out the words – war, battle, fight – for real and then gave it all up for their country, their lives left incomplete, futures extinguished.
The people of both our countries are often told that cricket is the one thing that brings Indians and Australians together. That cricket is our single common denominator.
India's first Test series as a free country was played against Australia in November 1947, three months after our independence. Yet the histories of our countries are linked together far more deeply than we think and further back in time than 1947.
We share something else other than cricket. Before they played the first Test match against each other, Indians and Australians fought wars together, on the same side. In Gallipoli, where, along with the thousands of Australians, over 1300 Indians also lost their lives. In World War II, there were Indian and Australian soldiers in El Alamein, North Africa, in the Syria-Lebanon campaign, in Burma, in the battle for Singapore.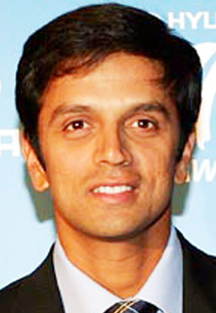 It is often said that cricketers are ambassadors for their country; when there's a match to be won, sometimes we think that is an unreasonable demand. After all, what would career diplomats do if the result of a Test series depended on them, say, walking? But, as ties between India and Australia have strengthened and our contests have become more frequent, we realise that as Indian players, we stand for a vast, varied, often unfathomable and endlessly fascinating country.
At the moment, to much of the outside world, Indian cricket represents only two things – money and power. Yes, that aspect of Indian cricket is a part of the whole, but it is not the complete picture. As a player, as a proud and privileged member of the Indian cricket team, I want to say that, this one-dimensional, often cliched image relentlessly repeated is not what Indian cricket is really all about.
I cannot take all of you into the towns and villages our players come from, and introduce you to their families, teachers, coaches, mentors and team-mates who made them international cricketers. I cannot take all of you here to India to show you the belief, struggle, effort and sacrifice from hundreds of people that runs through our game.
As I stand here today, it is important for me to bring Indian cricket and its own remarkable story to you. I believe it is very necessary that cricketing nations try to find out about each other, try to understand each other and the different role cricket plays in different countries, because ours is, eventually, a very small world.
In India, cricket is a buzzing, humming, living entity going through a most remarkable time, like no other in our cricketing history. In this last decade, the Indian team represents more than ever before, the country we come from – of people from vastly different cultures, who speak different languages, follow different religions, belong to all classes of society. I went around our dressing room to work out how many languages could be spoken in there and the number I have arrived at is: 15, including Shona and Afrikaans.
Most foreign captains, I think, would baulk at the idea. But, when I led India, I enjoyed it, I marvelled at the range of difference and the ability of people from so many different backgrounds to share a dressing room, to accept, accommodate and respect that difference. In a world growing more insular, that is a precious quality to acquire, because it stays for life and helps you understand people better, understand the significance of the other.
Let me tell you one of my favourite stories from my Under-19 days, when the India Under-19 team played a match against the New Zealand junior team. We had two bowlers in the team, one from the north Indian state of Uttar Pradesh – he spoke only Hindi, which is usually a link language for players from all over India, ahead even of English. It should have been all right, except the other bowler came from Kerala, in the deep south, and he spoke only the state's regional language, Malayalam. Now even that should have been okay as they were both bowlers and could bowl simultaneous spells.
Yet in one game, they happened to come together at the crease. In the dressing room, we were in splits, wondering how they were going to manage the business of a partnership, calling for runs or sharing the strike. Neither man could understand a word of what the other was saying and they were batting together. This could only happen in Indian cricket. Except that these two guys came up with a 100-run partnership. Their common language was cricket and that worked out just fine.
The everyday richness of Indian cricket lies right there, not in the news you hear about million-dollar deals and television rights. When I look back over the 25 years I've spent in cricket, I realise two things. First, rather alarmingly, that I am the oldest man in the game, older to even Sachin by three months. More importantly, I realise that Indian cricket actually reflects our country's own growth story during this time. Cricket is so much a part of our national fabric that as India – its economy, society and popular culture – transformed itself, so did our most-loved sport.
As players we are appreciative beneficiaries of the financial strength of Indian cricket, but we are more than just mascots of that economic power. The caricature often made of Indian cricket and its cricketers in the rest of the world is that we are pampered superstars. Overpaid, underworked, treated like a cross between royalty and rock stars.
Yes, the Indian team has an enormous, emotional following and we do need security when we get around the country as a group. It is also why we make it a point to always try and conduct ourselves with composure and dignity. On tour, I must point out, we don't attack fans or do drugs or get into drunken theatrics. And at home, despite what some of you may have heard, we don't live in mansions with swimming pools.
The news about the money may well overpower all else, but along with it, our cricket is full of stories the outside world does not see. Television rights generated around Indian cricket, are much talked about. Let me tell you what the television – around those much sought-after rights – has done to our game.
A sport that was largely played and patronised by princes and businessmen in traditional urban centres, cities like Bombay, Bangalore, Chennai, Baroda, Hyderabad, Delhi – has begun to pull in cricketers from everywhere.
As the earnings from Indian cricket have grown in the past 2 decades, mainly through television, the BCCI has spread revenues to various pockets in the country and improved where we play. The field is now spread wider than it ever has been, the ground covered by Indian cricket, has shifted.
Twenty seven teams compete in our national championship, the Ranji Trophy. Last season Rajasthan, a state best known for its palaces, fortresses and tourism won the Ranji Trophy title for the first time in its history. The national one-day championship also had a first-time winner in the newly formed state of Jharkand, where our captain MS Dhoni comes from.
The growth and scale of cricket on our television was the engine of this population shift. Like Bradman was the boy from Bowral, a stream of Indian cricketers now come from what you could call India's outback.
Zaheer Khan belongs to the Maharashtra heartland, from a town that didn't have even one proper turf wicket. He could have been an instrumentation engineer but was drawn to cricket through TV and modelled his bowling by practising in front of the mirror on his cupboard at home, and first bowled with a proper cricket ball at the age of 17.
One day out of nowhere, a boy from a village in Gujarat turned up as India's fastest bowler. After Munaf Patel made his debut for India, the road from the nearest railway station to his village had to be improved because journalists and TV crews from the cities kept landing up there.
We are delighted that Umesh Yadav didn't become a policeman like he was planning and turned to cricket instead. He is the first cricketer from the central Indian first-class team of Vidarbha to play Test cricket.
Virender Sehwag, it shouldn't surprise you, belongs to the wild west just outside Delhi. He had to be enrolled in a college which had a good cricket programme and travelled 84kms every day by bus to get to practice and matches.
Every player in this room wearing an India blazer has a story like this. Here, ladies and gentlemen, is the heart and soul of Indian cricket.
Playing for India completely changes our lives. The game has given us a chance to pay back our debt to all those who gave their time, energy and resources for us to be better cricketers: we can build new homes for our parents, get our siblings married off in style, give our families very comfortable lives.
This is the time Indian cricket should be flowering; we are the world champions in the short game, and over the space of the next 12 months should be involved in a tight contest with Australia, South Africa and England to determine which one of us is the world's strongest Test team.
Yet I believe this is also a time for introspection within our game, not only in india, but all over the world. We have been given some alerts and responding to them quickly is the smart thing to do.
I was surprised a few months ago to see the lack of crowds in an ODI series featuring India. By that I don't mean the lack of full houses, I think it was the sight of empty stands I found somewhat alarming.
India played its first one-day international at home in November 1981, when I was nine. Between then and now India have played 227 ODIs at home; the October five-match series against England was the first time that the grounds have not been full for an ODI featuring the Indian team.
In the summer of 1998, I played in a one-dayer against Kenya in Kolkata and the Eden Gardens was full. Our next game was held in the 48-degree heat of Gwalior and the stands were heaving.
The October series against England was the first one at home after India's World Cup win. It was called the 'revenge' series meant to wipe away the memory of a forgettable tour of England. India kept winning every game, and yet the stands did not fill up. Five days after a 5-0 victory 95,000 turned up to watch the India's first Formula One race.
A few weeks later I played in a Test match against West Indies in Calcutta, in front of what was the lowest turn out in Eden Gardens' history. Yes we still wanted to win and our intensity did not dip. But at the end of the day, we are performers, entertainers and we love an audience. The audience amplifies everything you are doing, the bigger the crowd the bigger the occasion, its magnitude, its emotion. When I think about the Eden Gardens crowds this year, I wonder what the famous Calcutta Test of 2001 would have felt like with 50,000 people less watching us.
Australia and South Africa played an exciting and thrilling Test series recently and two great Test matches produced some fantastic performances from players of both teams, but were sadly played in front of sparse crowds.
It is not the numbers that Test players need, it is the atmosphere of a Test that every player wants to revel in and draw energy from. My first reaction to the lack of crowds for cricket was that there had been a lot of cricket and so perhaps, a certain amount of spectator-fatigue. That is too simplistic a view; it's the easy thing to say but might not be the only thing.
The India v England ODI series had no context, because the two countries had played each other in four Tests and five ODIs just a few weeks before. When India and West Indies played ODIs a month after that the grounds were full, but this time the matches were played in smaller venues that didn't host too much international cricket. Maybe our clues are all there and we must remain vigilant.
Unlike Australia or England, Indian cricket has never had to compete with other sports for a share of revenues, mind space or crowd attendance at international matches. The lack of crowds may not directly impact on revenues or how important the sport is to Indians, but we do need to accept that there has definitely been a change in temperature over, I think, the last two years.
Whatever the reasons are – maybe it is too much cricket or too little by way of comfort for spectators – the fan has sent us a message and we must listen. This is not mere sentimentality. Empty stands do not make for good television. Bad television can lead to a fall in ratings, the fall in ratings will be felt by media planners and advertisers looking elsewhere.
If that happens, it is hard to see television rights around cricket being as sought after as they have always been in the last 15 years. And where does that leave everyone? I'm not trying to be an economist or doomsday prophet – this is just how I see it.
Let us not be so satisfied with the present, with deals and finances in hand that we get blindsided. Everything that has given cricket its power and influence in the world of sports has started from that fan in the stadium. They deserve our respect and let us not take them for granted. Disrespecting fans is disrespecting the game. The fans have stood by our game through everything. When we play, we need to think of them. As players, the balance between competitiveness and fairness can be tough but it must be found.
If we stand up for the game's basic decencies, it will be far easier to tackle its bigger dangers – whether it is finding short cuts to easy money or being lured by the scourge of spot-fixing and contemplating any involvement with the betting industry.
Cricket's financial success means it will face threats from outside the game and keep facing them. The last two decades have proved this over and over again. The internet and modern technology may just end up being a step ahead of every anti-corruption regulation in place in the game. As players, the one way we can stay ahead for the game, is if we are willing to be monitored and regulated closely.
Even if it means giving up a little bit of freedom of movement and privacy. If it means undergoing dope tests, let us never say no. If it means undergoing lie-detector tests, let us understand the technology, what purpose it serves and accept it. Now lie-detectors are by no means perfect but they could actually help the innocent clear their names. Similarly, we should not object to having our finances scrutinised if that is what is required.
When the first anti-corruption measures were put into place, we did moan a little bit about being accredited and depositing our cell phones with the manager. But now we must treat it like we do airport security because we know it is for our own good and our own security.
Players should be ready to give up a little personal space and personal comfort for this game, which has given us so much. If you have nothing to hide, you have nothing to fear.
Other sports have borrowed from cricket's anti-corruption measures to set up their own ethical governance programmes and we must take pride in belonging to a sport that is professional and progressive.
One of the biggest challenges that the game must respond to today, I believe, is charting out a clear road map for the three formats. We now realise that the sport's three formats cannot be played in equal numbers – that will only throw scheduling and the true development of players completely off gear.
There is a place for all three formats, though, we are the only sport I can think of which has three versions. Cricket must treasure this originality. These three versions require different skills, skills that have evolved, grown, changed over the last four decades, one impacting on the other.
Test cricket is the gold standard, it is the form the players want to play. The 50-over game is the one that has kept cricket's revenues alive for more than three decades now. Twenty20 has come upon us and it is the format people, the fans want to see.
Cricket must find a middle path, it must scale down this mad merry-go-round that teams and players find themselves in: heading off for two-Test tours and seven-match ODI series with a few Twenty20s thrown in.
Test cricket deserves to be protected, it is what the world's best know they will be judged by. Where I come from, nation versus nation is what got people interested in cricket in the first place. When I hear the news that a country is playing without some of its best players, I always wonder, what do their fans think?
People may not be able to turn up to watch Test cricket but everyone follows the scores. We may not fill 65,000 capacity stadiums for Test matches, but we must actively fight to get as many as we can in, to create a Test match environment that the players and the fans feed off. Anything but the sight of Tests played on empty grounds. For that, we have got to play Test cricket that people can watch.
I don't think day-night Tests or a Test championship should be dismissed.
In March of last year I played a day-night first-class game in Abu Dhabi for the MCC and my experience from that was that day-night Tests is an idea seriously worth exploring. There may be some challenges in places where there is dew but the visibility and durability of the pink cricket ball was not an issue.
Similarly, a Test championship, with every team and player driving themselves to be winners of a sought after title, seems like it would have a context to every game.
Keeping Tests alive may mean different innovations in different countries – maybe taking it to smaller cities, playing it in grounds with smaller capacities like New Zealand has thought of doing, maybe reviving some old venues in the West Indies, like the old Recreation Ground in Antigua.
When I was around seven years old, I remember my father taking a Friday off so that we could watch three days of Test cricket together. On occasions he couldn't, I would accompany one of his friends, just to soak in a day of Test cricket and watch the drama slowly unfold.
What we have to do is find a way to ensure that Test matches fit into 21st century life, through timing, environments and the venues they are held in. I am still convinced it can be done, even in our fast-moving world with a short attention span. We will often get told that Test matches don't make financial sense, but no one ever fell in love with Test cricket because they wanted to be a businessman. Not everything of value comes at a price.
There is a proposal doing the rounds about scrapping the 50-over game completely. I am not sure I agree with that – I certainly know that the 50-over game helped us innovate strokes in our batting which we were then able to take into Test matches. We all know that the 50-over game has been responsible for improving fielding standards all over the world.
The future may well lie in playing one-day internationals centered around ICC events, like the Champions Trophy and the World Cups. This would ensure that all 50-over matches would build up for those tournaments.
That will cut back the number of one-day internationals played every year but at least those matches will have context. Since about I think 1985, people have been saying that there is too much meaningless one-day cricket. Maybe it's finally time to do something about it.
The Twenty20 game as we know has as many critics as it has supporters in the public. Given that an acceptable strike rate in T20 these days is about 120, I should probably complain about it the most. The crowd and revenue numbers, though, tell us that if we don't handle Twenty20 correctly, we may well have more and more private players stepping in to offer not just slices of pie, but maybe even bigger pies themselves.
So I'll re-iterate what I've just said very quickly because balancing three formats is important:
We have Test cricket like we have always had, nation versus nation, but carefully scheduled to attract crowds and planned fairly so that every Test playing country gets its fair share of Tests. And playing for a championship or a cup, not just a ranking.
The 50-overs format focused around fewer, significant multi-nation ICC events like the Champions Trophy and the World Cup. In the four-year cycle between World Cups, plan the ODI calendar and devise rankings around these few important events. Anything makes more sense than seven-match ODI series.
The best role for Twenty20 is as a domestic competition through official leagues, which will make it financially attractive for cricketers. That could also keep cricket viable in countries where it fights for space and attention.
Because the game is bigger than us all, we must think way ahead of how it stands today. Where do we want it to be in the year 2020? Or say in 2027, when it will be 150 years since the first Test match was played. If you think about it, cricket has been with us longer than the modern motor car, it existed before modern air travel took off.
As much as cricket's revenues are important to its growth, its traditions and its vibrancy are a necessary part of its progress in the future. We shouldn't let either go because we played too much of one format and too little of the other.
Professionalism has given cricketers of my generation privileged lives and we know it, even though you may often hear us whining about burn-out, travel and the lack of recovery time.
Whenever we begin to get into that mindset, it's good to remember a piece of Sachin's conversation with Bradman. Sachin told us that he had asked Sir Don how he had mentally prepared for big games, what his routines were. Sir Don said, that well, before a game he would go to work and after the game go back to work. Whenever a cricketer feels a whinge coming on, that would be good to remember.
Around the Web