Paul Meusa and Chelsea Edghill are the new mixed doubles champions in the 2011 National Table Tennis Championships after battling to a 3-2 win against Trenace Lowe and Joel Alleyne.
At the National Gymnasium, Mandela Avenue, the winning duo  breezed through Edinho Lewis and Natalie Cummings in the semi-finals with a 3-0 win to set an intriguing final with Lowe and Alleyne. The latter dominated Jody-Ann Blake and Kyle Edghill in the semi-finals with a 3-0 win as well.
The final was a battle of who could have held their concentration the longest, as both teams seemed fairly matched.
Lowe and Alleyne got off to a quick start and took the first set easily as they demonstrated a sense of calm to win 11-7.
In the second set, while it was evident that Meusa and Edghill were struggling as a duo they came from behind to win the set 11-8 after being 0-5.
Out to a quick start for the third and consecutive set with a 5-0 lead, Lowe and Alleyne looked dangerous, and not even a late fight back by Edghill and Meusa could stop them winning the set 11-8.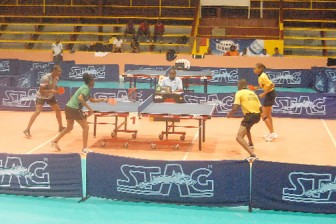 However, constant talking between set points saw Meusa and Edghill dominating the fourth set with a 9-0 start as they displayed natural skill and power which broke down the concentration of their opposition. The set eventually finished 11-2 in favour of Meusa and Edghill which forced a fifth and final set and with the momentum in their favour.
With a 2-0 start and Meusa and Edghill catching  form and fluency, they looked unstoppable as they outplayed their opponents with the use of power to end the set 11-9.
"It was a tight one for us, there were some points that we just couldn't prevent from our opposition because at times they were playing really well…we lost concentration at times but when we started to execute our plans more consistently it was a good game for us," Meusa told Stabroek Sport after  the mixed doubles victory.
Meanwhile the tournament will continue with the 21-years-and-under category today from 16:00 hrs at the said venue.
Around the Web