Former three time men's singles champion Colin France used his vast experience to  win  the men's doubles title with partner Denzil Hopkinson when the Guyana Table Tennis Association national championships continued yesterday at the National Gymnasium.
France and Hopkinson came from two sets down to outlast the younger pair of Dwain Dick and Nigel Bryan by three sets to two.
The match-up was one where the cohesiveness and     experience proved to superior to the outright aggression and speed of Bryan and Dick.
Bryan and Dick had won the first two sets 11-4, 11-8 using their obvious speed advantage.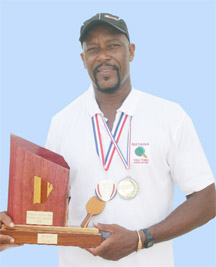 With just one set left to wrap up the tie, France  and Hopkinson dug deep even as Bryan and Dick started to lose focus.
Hopkinson and France duly pulled one game back courtesy of an 11-4 triumph.
They then followed up with a dominant fourth set that also ended 11-4, forcing a fifth and final set to decide  the title winners.
However, instead of a competitive final set, Hopkinson and France completely blew Bryan and Dick out with an 11-1 win.
Last evening also saw the start of the open 'B' Class category as familiar faces such as Trenace Lowe, Chelsea Edghill, Hopkinson, Patrick Triumph, Warren Hacksaw and Xenophon Goliah finished unbeaten to top  their groups.
The tournament will continue today with the continuation of the 'B' Class category along with the 21 years and under category.
Around the Web