Grove Hi Tech last evening defeated Netrockers 5-3 on penalty kicks in game three of the 22nd annual Kashif and Shanghai football tournament at the Georgetown Cricket Club (GCC) ground.
The victory means that Grove Hi Tech (GHT) will lock horns with Victoria Kings in the next round on December 21 in Beterverwagting (BV).
In front of an average-size crowd compared to the first night on December 10, both teams playing the standard 4-4-2 formation commenced proceeding in the first half with Netrockers, who was the most experienced team in terms of longevity in the Kashif and Shanghai tournament, dominating proceedings.
The opening goal came via the boot of Ordane Wills in just the fifth minute. In the 23rd minute it was almost 2-0, with Netrockers captain and striker Tony Adams missing from close range. That was to be the only significant play in first half, as Netrockers went into the interval with a 1-0 advantage.
Upon resumption the GHT side noticeably raised their game and began to take control of proceedings.
The first of many chances came in the 51st minute when a long-ball from mid-field was run onto by Cordell Carmichael (number 15) who blasted his shot wildly over the top.
Then, in the 55th minute, a corner kick was headed onto the post by captain Levi Braithwaite.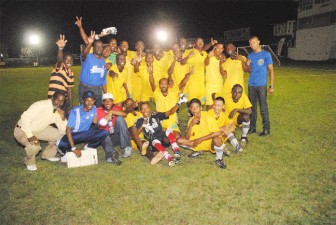 The deadlock was broken in the 62nd minute when a strong drive by John Matthews was fumbled by Netrockers goalkeeper Darius Frank up into the air only for a prowling Timothy Griffith to head  home the equaliser.
GHT kept raining shots on the opposition's goal and it seemed as if the Netrockers defence would crumble.
Matthews in the 89th minute almost won the game for his side. He received a sharp right-wing cross, but his powerfully struck shot went straight to the goalkeeper as the game ended 1-1 at full-time. During the 30 minute, extra time period both teams struggled to control the ball on a wet surface and chances were minimal. In the penalty shootout, GHT was the more composed team under pressure which saw them converting all five of their spot kicks to ensure victory. The team celebrated by running to some sections of their fans in the Rohan Kanhai stand.
The competition continues tomorrow with a double header in Uitvlugt that will see Buxton Stars facing Den Amstel from 18:30hrs and Bakewell Top XX facing Seawall from 8:30.
Around the Web