Top seeds in the Under-21 male and female categories Nigel Bryan and Trenace Lowe respectively played true to the seedings yesterday when the Guyana Table Tennis Association (GTTA) national championships continued at the National Gymnasium.
Bryan in one of the better matches yesterday came from behind to shock United States of America based Brad Belle and book his spot in the U-21 male final.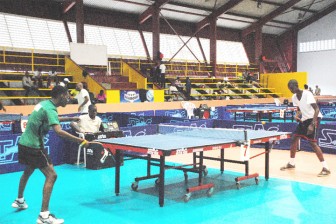 With the win Bryan duly avenged the defeat he suffered to Belle in last year's Under-18 final.
The current national junior champion won 11-5, 7-11, 9-11, 11-9 and 11-8.
Lowe had no such problems and eased to a 3-0 whipping of upstart Chelsea Edghill in the female U-21 final winning 11-6, 11-6, 11-8.

It was a bittersweet day for Edghill who endured a gruelling test to defeat main rival Akecia Nedd 3-2 in the final match of the under-18 female round-robin competition.
Bryan's opponent in the U-21 final will be Denzil Hopkinson.
Bryan is also in line to defend his under-18 title as he made it through the early rounds of the category to reach the semi-finals.
His semi-final opponent will be Brad Belle's twin brother Brandon and the southpaw will be looking to avenge the defeat suffered by his sibling.
The other semifinal match-up will see the inform Hopkinson coming up against Brad Belle.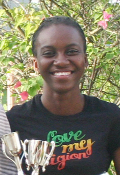 The 'B' Class open final will be a battle of the Belles as Brad will face Brandon in the eagerly anticipated game.
Both players had fairly easy tests in the semifinals as Brad Belle downed Chelsea Edghill 11-7, 11-9, 6-11 and 11-2 while Brandon Belle swept veteran Patrick Triumph 11-9, 11-7 and 11-7.
In the battle of the Johnsons, St Stanislaus student   Elishaba Johnson will look to add another title to his name as he will face Joseph Johnson of Marian Academy in the under-15 male final.
Elishaba Johnson was unstoppable in his semifinal round as he defeated Sunil Logan 3-1 winning 11-7, 7-11, 11-9 and 11-8 while Joseph Johnson had a bit of a rough time in his semifinal round but endured to defeat Kyle Edghill 3-2  winning 10-12, 11-5, 12-10, 6-11 and 11-8.
The under-13 male final will be one to watch as both finalists; Kyle Edghill and Shemar Britton were dominant in their semifinal rounds sweeping their opponents in three straight sets.
Edghill downed Scott Garraway 11-5, 12-10 and 11-2 while Britton upset Elishaba Johnson 11-6, 11-5 and 11-7.
The competition continues today with the men's singles and veteran competitions.
Around the Web