By Emmerson Campbell
World Boxing Council's (WBC) CABOFE cruiserweight champion Barbadian Shawn 'The Sniper' Cox scored a sensational first round knockout of Guyana's Kurt Bess Saturday night at the Cliff Anderson Sports Hall at the 19th staging of the Friday Night Fight card organised by the Guyana Boxing Board of Control.
The first of three knockdowns occurred 40 seconds into the headline bout and brought the crowd at the venue to its feet as the southpaw Cox landed a vicious straight left to the nose of Guyana's cruiserweight and heavyweight champion 'Sledgehammer' Bess, sending him to the canvas.
A bleeding Bess got up before WBC's affiliated referee Eion Jardine could reach the count of 10 but he appeared to be walking on 'dizzy street'.
Bess tried to regain his composure by holding on to Cox but a minute later he was caught  again by a brutal left hook,  which sent him for another brief stay at port canvas.
Bess, who was clearly disoriented, rose up once again but was just target practice for the sharp shooter.
Cox duly reloaded his 'hand gun' and at point blank range shot a jaw-breaking left hook which blasted Bess into oblivion.
At two minutes, 10 seconds into the bout, referee Jardine was forced to put an end to the assault.
Pundits had predicted that the fight would come to a premature end as both fighters are renowned knockout specialists.
However, most of the patrons were left with dropped jaws as the end came much sooner than expected.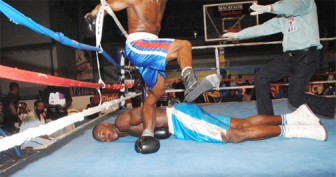 Cox, 36, who has now successfully defended his title 11 times, has improved his amazing record to 15 wins and one loss, 14 of his wins have come by knockout, all before the fourth round.
The 32-year-old Bess' record drops to five wins and five losses.
In the post fight interview with Stabroek Sport, Sam Layne, Cox's trainer, said that the knockout specialist has been assured of greater things in the new year, most likely a world title shot.
In the preceding welterweight bout, another Barbadian, Miguel 'Hands of Stone' Antoine pounded out another unanimous victory over Mark Austin in their eight -round rematch.
The more skillful and harder hitting Antoine, repeatedly caught Austin with combinations and right hands throughout the one-sided affair earning his 16th victory.
Antoine, the former WBC CABOFE junior welterweight and current Commonwealth Zonal junior welterweight champion, remains unbeaten improving his record to 16 wins with nine of them coming by the knockout route.
Austin who lost the first fight to Antoine in February of this year record now drops to six wins, three losses and a draw.
In a four-round super flyweight bout, a seemingly ill-prepared and unskillful Ryan 'Sack' Ali negated journeyman Orlon 'Pocket Rocket' Rogers from securing his first knockout of his 10-year professional career by surviving Rogers' blows.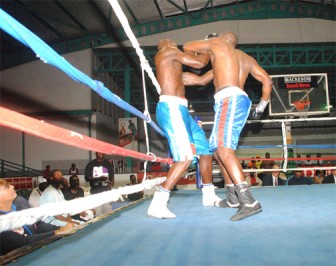 The southpaw Ali, who took the fight on short notice as a replacement for Elton 'Coolie Bully' Dharry, swung several left-hand telegraphed heaves that missed the shorter Rogers who would counterpunch Ali throughout their encounter. In the fourth round an exhausted looking Ali survived a series of combinations by the `Pocket Rocket' holding onto the shorter Rogers for dear life.
Rogers now has a handful of wins improving his record to five wins and 12 losses, Ali is yet to record a victory in his three-fight career.
Debutant Prince Slowe and veteran Hewley Robertson were both disqualified by referee Dexter Torrington in their super bantamweight affair for not boxing in earnest. The two boxers came out in round one tapping each other lightly with their gloves and were warned for their lack of action by Torrington. After three rounds of waltzing Torrington had seen enough and to the delight of the crowd the duo was tossed from the ring.
On the amateur segment of the card Jamal Eastman, Ron Smith, Richard Williamson and Laured Stewart all recorded victories over their opponents.
In a 75-79 pounds slugfest Eastman from the Pocket Rocket Boxing Gym (PRBG) in Berbice defeated Harpy Eagles' (HE) Elijah Inshanally two to one.
Welterweight Stewart who trains at the Forgotten Youth Foundation (FYF) gym won his contest against Tiger Eyes product Travis Fraser by referee stops contest (RSC) in round two.
Williamson a PRBG product along with his opponent Dellon Charles (FYF) both won silver medals at the recently concluded inaugural Ronald Wilson Memorial boxing tournament in Barbados fought a highly competitive fight standing toe to toe and trading punches.
The two boxers who are on the `Road to London' Olympic Games next year, put on a punch-filled entertaining battle, but in the end Williamson did just enough to pull out a two to one decision.
Guyana Defence Force (GDF) Smith, who copped a gold medal at the same Memorial tournament, turned in another successful performance pounding out a two to one victory over HE product Romeo Norville.
A 10-second traditional toll of the bell was observed for the passing of former local, FECABOX and Commonwealth featherweight champion Patrick Forde who succumbed to a heart attack last month in New York.
At intermission, a representative of Courts Guyana Inc., shared out hampers to all eight amateur boxers.
The monthly card is an initiative of the GBBC in collaboration with the Ministry of Sport and the National Communication Network (NCN).
Sponsors for the event include Digicel, Giftland Office Max, Courts, Banks DIH Limited, GuyOil and Ansa Mcal.
Around the Web