Fourteen-year old third form Richard Ishmael student Saeed Ali yesterday won the Open individual event at the annual national schools 'chess championships held at the Providence National Stadium.
Ali ended with six points out of a possible seven. He won five of his matches and drew with former national junior chess champion Ron Motilall and Joshua Pedro.
It was the biggest win of Ali's fledgling career and both himself and his coach Roy Sharma were over the moon yesterday.
"I feel happy because it is the first time I have won a major tournament," a beaming Ali told Stabroek Sport yesterday. It was not the first win hover for Sharma, a renowned blitz player who also coaches former national junior chess champion Cecil Cox. Perhaps it was Sharma's strategy but Cox, who recently was the runner up to Suhai Feng in this year's Guyana Chess Federation national junior chess championships only played in the team tournament for his alma mater Queen's College.
Ali told Stabroek Sport that his toughest game was against Motilall.
He added that he trained hard for the tournament playing a number of h games with his coach Sharma and also analysed games, including both openings and end games.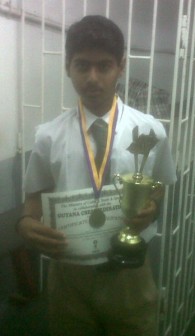 Ali, who failed to qualify for this year's Closed national junior chess championships, says his next goal he said is to become the national junior champion of Guyana.
Though he failed to make the cut for the junior championships he did qualify for the senior championships where he placed a creditable sixth.
Pedro with five and one half points was second to Ali while four players, Davion Mars, Bobby Samuel, Roberto Neto and Orlando Boyce occupied the next four places with five points.
Motilall, was one of three players on four and one half points with the others being Samuel Saul and Sheriffa Ali.
Around the Web