DHAKA,  (Reuters) – Taufiq Umar closed in on a half-century as Pakistan reached 87 for one in replying to Bangladesh's 338 all out on the second day of the second test  yesterday.
Umar reached 44 and Azhar Ali was unbeaten on 26 before bad light halted play early.
The only wicket fell to Nazmul Hossain who had Mohammad Hafeez (14) caught behind with his first ball on his return to the international team after playing one previous test in 2004.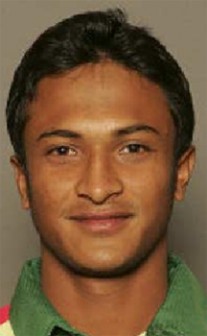 Pakistan had dismissed the hosts on the stroke of tea, quickly wrapping up the innings after Shakib Al Hasan had been run out for a fine 144.
Shakib went after a bad mix-up with Mushfiqur Rahim (40) which ended their 82-run sixth-wicket stand.
Rahim called for a single but then changed his mind leaving Shakib stranded with Taufiq hitting the stumps with a direct throw from mid-on.
Rahim was dismissed with the next delivery, caught behind down the leg side off Umar Gul.
Spinner Saeed Ajmal then took two wickets to clean up the tail.
Scoreboard
Bangladesh first innings (overnight 234-5)
Tamim Iqbal c Cheema b Umar Gul                                            14
Nazimuddin lbw b Aizaz Cheema                                                  0
Shahriar Nafees c Adnan b Umar Gul                                        97
Mahmudullah b Aizaz Cheema                                                      0
Nasir Hossain c Adnan b Aizaz Cheema                                    7
Shakib Al Hasan run out                                                              144
Mushfiqur Rahim c Adnan b Umar Gul                                   40
Elias Sunny lbw b Saeed Ajmal                                                   12
Shahadat Hossain not out                                                             21
Nazmul Hossain run out                                                                 0
Robiul Islam lbw b Saeed Ajmal                                                  0
Extras: (lb-3)                                                                                      3
Total: (all out; 107.2 overs)                                                   338
Fall of wickets: 1-0 2-16 3-21 4-43 5-223 6-305 7-305 8-331 9-332.
Bowling: Umar Gul 28-1-102-3, Aizaz Cheema 26-4-73-3, Mohammad Hafeez 9-3-27-0, Saeed Ajmal 24.2-3-64-2, Abdur Rehman 19-0-66-0, Younus Khan 1-0-3-0.
Pakistan first innings
Mohammad Hafeez c Rahim b Nazmul Hossain                   14
Taufiq Umar not out                                                                       44
Azhar Ali not out                                                                             26
Extras: (nb-3)                                                                                     3
Total: (one wicket; 27 overs)                                                     87
Fall of wicket: 1-23
To bat: Younis Khan, Misbah-ul-Haq, Asad Shafiq, Adnan Akmal, Abdur Rehman, Umar Gul, Saeed Ajmal, Aizaz Cheema
Bowling: Shahadat Hossain 2-0-15-0 (nb-1), Robiul Islam 7-1-24-0 (nb-2), Nazmul Hossain 8-0-28-1, Mahmudullah 6-2-14-0, Shakib Al Hasan 4-1-6-0.
Around the Web