National table tennis player Nigel Bryan yesterday created history by becoming the first person in Guyana to win the junior, senior and under-21 titles at the annual national championships.
And, following his three title triumph, the young racquet wielder told Stabroek Sport that he was "Sitting on top of the world."
It was an apt quote from Bryan who, with his men's singles win finally claimed the most coveted  title in local able tennis  even though his victory would be somewhat devalued by the absence of several top players Paul David, Christopher Franklyn, Idi Lewis and  defending champion Godfrey Munroe.
Formerly the championships were only for junior and senior players but the introduction of the Under-21 category a few years ago gave Bryan a chance of a unique, historic treble.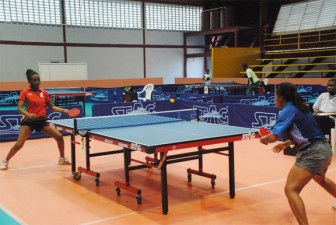 In recent times, only two persons came close to winning the junior and senior titles at national championships in Garfield Wiltshire and Godfrey Munroe.
Munroe won the junior title and placed second to Sydney Christophe in an eight man round robin final in 1990 while Wiltshire won the junior title and placed second to Trevor Lowe in 1981.
Playing virtually unstoppable, Bryan swept all three of his opponents namely Brad Belle, Denzil Hopkinson and Paul Meusa in the 18 and under, 21 and under and men's open singles categories respectively with 3-0 victories. Bryan retained his 18 and under national title by defeating Belle  11-7, 11-7 and 11-9 as he effectively countered and served well during the match-up.
Turning his attention to the 21 and under category, half-an-hour after his 18 and under win, Bryan used his speed and aggression to quickly extinguish the hopes `Agent Zero' Hopkinson winning 11-5, 11-5 and 11-7.
An hour afterwards, Bryan returned for the men's singles final, preying on the weakness that Meusa exhibited during the course of his semi-final win over Edinho Lewis which simply spelt  r-u-s-t-y, to defeat him 11-9, 11-8 and 11-9.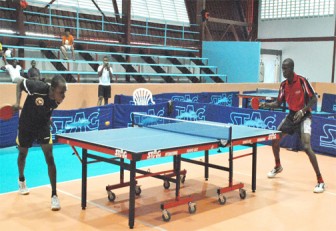 "This is what I wanted to accomplish and there is no better feeling than being number one in your country especially after all the hard work I put in," Bryan told Stabroek Sport after the men's singles final.
When asked if he felt any fatigue after playing three finals in one day, Bryan stated: "I could run a 10k with how I'm feeling right now," the 18-year-old told Stabroek Sport.
Trenace Lowe followed up her 21-years-and-under victory the previous day with a win in the ladies singles final, battling to a 3-1 victory over Natalie Cummings.
Lowe, always aggressive, emotional and focused,  secured the first two sets quite easily at 11-5 and 11-6.
However, Cummings started to gain momentum with  brilliant play to capture the third set 11-7 before  Lowe wrapped up the tie with an 11-9 win in the fourth set.
Veteran Colin France, his hopes dashed by Joel Alleyne in the quarter final of the men's singles,  duly turned his attention to his rightful category – the veterans – where he captured the 40-45 years and the 45 years and over categories.
France won both finals by 3-1 margins.
He downed Remy Taitt in the 40-45 years category and then defeated Xenophon Goliath in the 45 years and over category. Earlier in the day the 'B' Class Open final saw Brad Belle gaining a walkover over from his twin brother Brandon.
The under-15 finals was intense and Kyle Edghill and Elishaba Johnson had the small gathering of table tennis fans cheering every point won or lost.
Edghill emerged triumphant in winning 11-7, 11-6, 9-11, 7-11 and 11-9.
Shemar Britton also walked away with a victory yesterday in the under-13 category as he defeated Edghill 3-1 at 11-6, 11-9, 9-11 and 11-9. Director of Sport Neil Kumar attended yesterday's event. The GTTA will host their final Calendar event on December 30 featuring the Country's top sixteen players.
Around the Web