SYDNEY, Australia, CMC/IANS – Batsmen around the World may start to shiver in their boots, after Fidel Edwards threatened to touch the 160 kilometre-an-hour mark in the next year.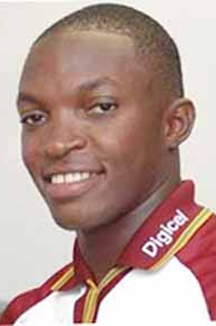 The 29-year-old West Indies fast bowler, who is playing for Sydney Thunder in the Big Bash, said he would like to get closer to the fastest delivery ever unleashed by Pakistani Shoaib Akhtar and Australian Shaun Tait.
"One of my aims is to be the fastest and regarded as the best fast bowler in the World," said Edwards.
"Hopefully, I'm not too far off that (goal) and it could be by the end of next year. That's my goal.
"Patrick Cummins is fast, Shaun Tait bowls quick and Kemar Roach bowls fast as well. Depending on how the body holds up, who knows, you could see some fast speeds in the Big Bash."
Edwards has enjoyed a year free of serious injury, after being sidelined for most of the previous two years with a career-threatening back injury that required surgery.
"I've been doing a lot of strength work lately and I've been holding up well," he said.
"There are still a couple of things I need to work on with my action, but hopefully you'll see me bowl faster.
He added: "I loved watching (West Indian greats) Curtly Ambrose, Courtney Walsh, Malcolm Marshall and those sorts of guys.
"I'm also a very big fan of Brett Lee, just the way he approaches his game, the way he runs in and bowls fast and scares batsmen. I love to watch him bowl."
Edwards failed to take a wicket on Sunday, when the Thunder opened their Big Bash campaign with a six-wicket victory over the Melbourne Stars.
Around the Web