Tournament favourites Pele and the Kashif and Shanghai tournament to a lesser extent, received a boost with Canadian-born Golden Jaguars representative Julien Edwards linking up with the Pele side for the remainder of the competition.
Edwards was one of the two Canadian imports along with right-back Taylor Benjamin of Guyanese heritage who joined up with the Golden Jaguars outfit during the historic and successful 2014 World Cup qualifiers, second round, that was contested from September 2nd – November 15th, which was highlighted by Guyana's 2-1 victory over the Soca Warriors at Providence on November 11th.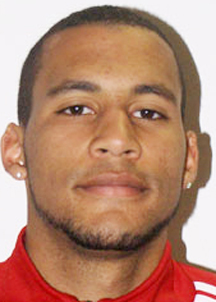 While Benjamin got his chance in Guyana's final game in Port-of-Spain on November 15th, Edwards who is a central defender did not get a chance as coach Shabbaz continued to rely recently on the central defensive pair of veteran Charles "Lilly" Pollard and English- born Leon Cort.
Stabroek Sport caught up with the 23-year-old defender who plays for Capital City FC in the Canadian Soccer League (the premier division in Canada) and he articulated his reasons for coming back to play in the Kashif and Shanghai tournament and other football related matters.
"My main motivation for coming to play in the Kashif and Shanghai tournament is due to the fact that when I first came down here in November with the national team, it seemed as if everyone was talking about this tournament and how big it is in Guyana. So I made the decision while going back to Canada that I would love to check it out for myself to get a feel of how Caribbean football is played, the different techniques, styles of play etc," Edwards explained.
He continued:"Also given it's offseason back in the Caribbean Soccer League since October, which ended with my team losing in the championship final to Toronto Croatia 1-0, the snow has taken over and it's almost impossible to get a chance to play proper outdoor football. So with Mark Xavier (Golden Jaguars team manager) and the guys in Kashif & Shanghai encouraging me to come on the sidelines, my final decision to come was a no brainer."
Edwards said that he had his first training session with Pele on Sunday said he has felt welcomed by the local players and with fellow national players in the Pele side such as Gregory "Jackie Chan" Richardson and Travis "Zorro" Grant helping with the process, and he hopes to leave a mark on the competition by helping Pele to win the title.
"Helping the Pele team to win is very important, but I also aim to show the Guyanese public that I'm a good player and that I belong here. The Guyana team is my future now and I'm going to be always grateful to the people in the Guyana Football Federation (GFF) for believing in my ability, so  hopefully I can show the public what I can do and I'm also willing to fight for a spot in the national team's central defense that currently is held by Pollard and Cort," said Edwards.
In an invited comment to Stabroek Sport, Pele coach Gordon Braithwaite and K&S executive Aubrey "Shanghai" Major expressed their delight at having Edwards involved in the team and the tournament.
"I think he will be a very good player for the national team one day, while watching him in training last month as a young defender he showed very good composure on the team, which is always a good sign as a professional. So I'm glad he is with us for the remainder of the tournament," said Braithwaite.
"Having Edwards here is a big boost for the tournament and Pele team as they seek to potentially go all the way in this year's tournament. With the two foreign teams Caledonia AIA and Caribbean United coming next week, if perhaps Pele reaches up with them, having a solid professional like Edwards could help their cause," reasoned Major.
Pele who defeated Timehri Panthers 10-nil in their opening game on December 10th at Bourda, will lock horns with the winner of the Christmas Day clash in Blairmont between Mill Ballers FC and Rosignol United on December 28th at Bourda.
Around the Web