Bakwell Buxton Stars and Seawall FC were the latest winners when action in the 22nd annual Kashif and Shanghai tournament continued at the Uitvlugt Community Center ground on Sunday evening.
Both Buxton Stars and Seawall FC recorded identical 2-1 victories over their respective opponents Den Amstel and Bakewell Topp XX.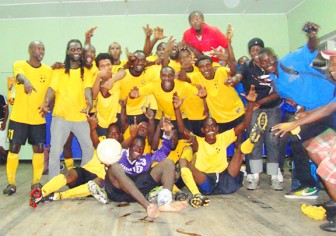 The shock of the night was most definitely Seawall ousting of five-time tournament champions Bakewell Topp XX, which continued the trend of this year's tournament of upsets, as other fancied teams such as Western Tigers, Netrockers have also been defeated in previous rounds.
Sunday's result means Buxton Stars will clash with BV Triumph tomorrow in Beterverwagting while Seawall will  battle with 1990/91 champions Milerock on December 23 in Linden.
In front of an average crowd on a surface that was heavily affected by rain in the area, all four teams struggled to orchestrate fluid passing games over the course of the combined 180 minutes of play.
The dramatic opening game saw Seawall scoring two second half goals to secure a shock 2-1 victory.
Bakewell Topp XX adapted to the heavily drenched field faster and reaped rewards as a 38th minute Colwin Davids strike put them in the lead and took them into the half-time interval with a clear advantage.
Almost immediately upon resumption, Seawall FC equalised when Dylon Josiah scored in the 48th minute with a brilliant long-range strike from about 30-35 yards out.
This goal noticeably shocked the Top XX side and for the remainder of the second half Seawall FC began to take charge.
Seawall finally broke the deadlock after receiving a penalty in the 71st minute.
Anthony Hardin duly scored to clinch victory for his side.
In game two, goals in either half in the third and 61st minutes from Jamal George and Terry Caesar aided Bakewell Buxton Stars in securing a 2-1 win over Den Amstel.
Both George and Caesar scored their goals via right wing crosses that fell onto their path unmarked in the box, as the Den Amstel defence failed to close them down in time.
Scoring the lone brace for Den Amstel was Andrea Hector in the 19th minute.
In addition to the game scheduled for Beterverwagting, tomorrow's other game will see Grove Hi Tec facing Victoria Kings.
Around the Web