LONDON,  CMC – Glenn Mills rebuffed suggestions that Usain Bolt will chase four gold medals at the 2012 Olympic Games in London.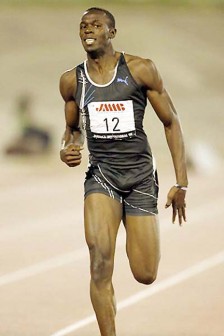 Media reports in the last week hinted that Bolt, the Jamaican sprint megastar, was likely to add the 4×400 metres relay to his list of events for the Games, alongside the 100m, 200 and 4×100 relay.
Mills, his coach, said Bolt still has a lot of work to do before he could even think about tackling the quarter-mile and almost ruled out any chance of his star athlete attempting the event in the British capital.
"It's a desire, but there's a lot more to it than what he says," said Mills on ESPN UK. "First, there's a trial where the quarter-milers are selected.
"It depends on what the national body of athletics decides. It's not for us to say."
Mills added: "We can express a desire, but Usain is not going to run the 400 at the trials, so it would have to be a decision by the association on it.
"He has all the attributes to be a quarter-miler, but he hasn't taken a liking to the event. He works hard at the sprints, but I guess the 400 isn't for him."
Bolt himself encouraged the discussion about trying his hand at the 400, failing to completely shoot down the talk whenever he is asked by reporters.
"When he's not as fast, maybe the quarter-mile will be the option for him," said Mills. "Everybody wants to be a winner and he's just that in his events. He may have a change of heart in the future."
Around the Web