By Emerson Campbell
Winners never quit and quitters never win – that's the mantra of Guyana's current cruiserweight and heavyweight champion Kurt 'Sledgehammer' Bess along with his management team as they look to resurrect his career in order to achieve his goals for the year ahead and beyond.
Bess who suffered a devastating first round knockout on Saturday last at the hands of World Boxing Council's (WBC) CABOFE cruiserweight champion Barbadian Shawn 'The Sniper' Cox said he will return to the drawing board in order to make himself a much better pugilist.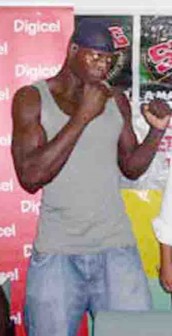 Stabroek Sport caught up with Bess, his coach George 'Kanchie' Oprecht and his manager Colin Retemiah yesterday at the Andrew 'Sixhead' Lewis gym where the trio spoke about the Sledgehammer's immediate and long-term plans.
Retemiah said that the immediate plan is to look at tapes, work on Bess' flaws and rebuild his confidence and also to focus solely on the heavyweight division.
"Our immediate plan is to go back to the drawing board, see our mistakes, correct them and from there we will try to get back on a winning track to build his confidence and from there we will look to get a CABOFE heavyweight title shot.
"Moving up and down will probably be to his detriment, also the cruiserweight division will not be part of the new CABOFE cash flow that will be starting next year. We will look to take the ring again in March, have some tune-up fights and possibly by July or August we get a shot at whoever the heavyweight CABOFE champion is."
Bess said he was fully confident of winning the fight against Cox but he toyed too much with his opponent and has learnt  from his mistake.
"I had confidence of winning the fight but I think I played around too much, I held back a lot, it is all a part of experience but I would like a rematch in the heavyweight division to show my fans and everyone else that I can beat him (Cox)."
Bess' manager revealed that there is no plan to have a rematch with Cox in the cruiserweight division but  they will entertain the idea of fighting him in the heavyweight division.
"I do not like making excuses but my fighter was not 100 percent physically, he was not a hundred percent, his training was good but he experienced a little sickness before the fight but because the CABOFE title was at stake, we went through with it. I know to myself he could beat Cox but the sickness had an effect on him, he was about 75 percent. We plan on coming out of the cruiserweight division; he has to make a lot of sacrifices in that division, we would take Cox back in the heavyweight category."
From a coaching standpoint Oprecht highlighted that he will be working to make Bess a better technical, defensive and aggressive boxer.
"He has got to develop more aggression; he needs a more killer instinct, we will work on him being more aggressive and his ability to punch going backward because as a tall fighter he has to be good at going backwards and using angles.
"I will programme him to be more offensive, especially at the start of fights. Also we will be building his left hand to make him a more complete two-fisted fighter.
"There are a lot of things we have to work on with his defence, evading punches, his backward movement, his head movements, throwing punches while moving back ward and so on," said Oprecht. The year 2012 will either be the make or break year for the 32-year-old 'Sledgehammer'.
Around the Web