Bridgetown, Barbados – The West Indies Cricket Board (WICB) and the Barbados Cricket Association (BCA) have paid tribute to Nigel Harrison, the outstanding first-class umpire who died recently in Barbados. He was 77.
Harrison was a very good club cricket for the famous Spartan Cricket Club, where he played alongside former  West Indies players Wes Hall, David Holford, Cammie Smith, Tony Howard and Peter Lashley.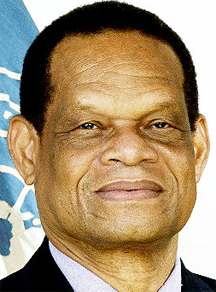 After his playing days ended Harrison joined the umpiring fraternity where he gave over 30 years of service. He stood in first-class matches in the Shell Shield and Red Stripe Cup as well as the regional limited-overs tournaments and regional Under-19s championships in the 1980s.
Speaking on behalf of the WICB, President Dr Julian Hunte said: "It is with great sadness that we say goodbye to Nigel Harrison, who was one of the leading umpires in Barbados and West Indies cricket. He carried himself with dignity and made a significant contribution to the game he loved. He helped to lift the standard of umpiring across the region and was a standard-bearer."
Dr Hunte added: "He was one who believed cricket was the 'gentleman's game' and made sure that the game was played fairly and in the true spirit. He played his part as an excellent club cricketer, a trusted umpire and a dedicated administrator. He never asked for anything in return, but only asked that others respect the game and make a contribution towards its development. He will be remembered for his selfless devotion and love of cricket."
Joel Garner, the former West Indies bowling great and President of the Barbados Cricket Association, remembered Harrison as a "strong, firm umpire" and a "true gentleman".
"As a player I came into contact with Mr. Harrison on many occasions while playing at the club level and in regional cricket and he was always a strong, firm umpire. He was one of those unsung heroes who did a lot of work. He did not seek the limelight nor did he go in search of fame. But rather, he did his job quietly and honestly and paved the way for others to follow," said Garner, a Director of the WICB and former Barbados captain.
"He was an excellent umpire and had a great love for the game. He was a good communicator and won the confidence of all the players. He made a huge contribution to the game at the club level in Barbados and also helped with the development of regional cricket as well. He was an excellent example and the game in Barbados and West Indies is poorer now he is no longer with us."
Around the Web