By Iva Wharton
Nigel Hinds a former national hockey and basketball player Nigel Hinds is back home and has stated his intention of doing his part to aid the development of sport.
Speaking to Stabroek Sport, Hinds, an accountant by profession, said that there was a lot of work to be done in the administrative field of sports in Guyana and he has decided that that area is where he plans to make most of his contributions.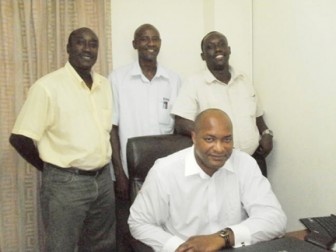 According to Hinds, athletes need support as there is life after sports and that he said will only come through education.
An example that came readily to Hinds is that of the Fernandes family.
Speaking about the Fernandes family Hinds said: "Those guys were tough and keen competitors with the financial support of their families. When those guys came to play they worked just as hard as anybody else, but the difference was they went home, did homework and they also attended college.
"So when you look at their lives you might not be able to mirror it but you could use it as a pattern or a guide."
According to Hinds, the lessons he learnt as a basketball player, instilled in him the desire to never to give up on his studies, something which he values a lot.
"The underprivileged among us get involved in sport with all their energies, brain power and aptitude.
"All of those are put into sports which, to some extent damages their chances at succeeding in other careers or getting a good job," was his candid opinion.
Hinds said the various sports administrations need to instill in players the fact that sport is not the end all, but only a part of one's educational development.
"I have seen too many cases where you play the game and that is your life and in Guyana, sports is not really played professionally to the extent where athletes will be able to earn a livelihood. Somewhere along the line we need to do skills and job training."
John Fernandes he said was one of the few companies where hockey players are employed in large numbers.
Hinds said he became involved in sport at a very young age starting with table tennis.
He then migrated to hockey before ending up on the basketball court.
According to him he has few regrets.
"With regards to hockey when you look around this room my love is there, Ivor Thompson, Gavin Hope and Dexter Wyles, we trained hard pretty much every day of the week under your bottom house with your brother, sister or your neighbor and we were playing since we were like 14-years-old, some of us younger.
"I mean to see a group of African Guyanese playing field hockey like we played it back in the '70s and '80's was phenomenal and we were dominant".
That period, he said, is seen today as somewhat of a breakout moment, because hockey is no longer seen through the prism of race or as an upscale sport, but as a Guyanese sport, which is enjoyed by all.
According to Hinds, his primary focus now is the development of his business Hinds Associates Financial Services.
He disclosed that his contribution was tied to the success of his business but added that having financial leverage would assist with the development of sports.
"The ideal situation is where you have the financial leverage, so you are not just giving a person a fish, but you are teaching them to fish. More importantly, you can make a major shift as to how the game is organized, how tournaments are run and what finances and facilities available".
According to Hinds, having the finances would make a big difference as opposed to just having a position as a treasure or president.
Hinds said what are happening in some sports disciplines in Guyana was that there were a number of persons that are really trying to earn a living while posing as administrators which was hurting sport.
Hinds returned home last month from Tampa, Florida, United States of America where he was based for seven years.
Around the Web