With the elimination of the Trinidad Soca Warriors football team by Guyana's Golden Jaguars from the 2014 World Cup Qualifying campaign still fresh in their minds, a Trinidad Club team is here to avenge that team's elimination while hoping to strike gold to boot, a pound of gold that is.
The Neal and Massy Caledonia AIA football club of Trinidad and Tobago is here for this year's Kashif and Shanghai tournament and, according to their technical director Jamal Shabazz and head coach Travis Mulraine, the club has been eagerly looking forward to participating in the competition.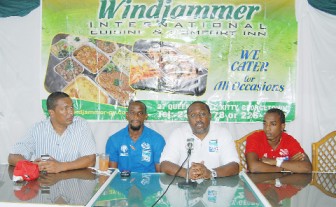 Caledonia AIA is one of the island's premier football clubs.
It competes in the Trinidad and Tobago Professional League (TTPL) and will make its Kashif and Shanghai debut against New Amsterdam United on Christmas Day (December 25) at the Blairmont Community Centre ground in Berbice.
Tournament director Kashif Muhammad in introducing the team at the media briefing at the Wind Jammer Hotel in Kitty yesterday, said they have been soliciting the services of the Caledonia side for a while and encouraged patrons to come out and be entertained by the brand of football the Trinidadians will play in the competition.
"We have just come off a four-game win streak during the TTPL just before our season break where we defeated some good teams such a W Connection and Joe Public. So in a lot of ways for us this tournament can aid us in maintaining the momentum that we have built, so that when we go back we can have an advantage over those other TTPL teams when the season resumes," explained Shabbaz.
He also suggested that the Caledonia squad, which  comprises 19 players,  will also be using the competition to help integrate and expose the relatively young side to other aspects of football that they may not experience while playing at home.
The Caledonia AIA side includes five Trinidad and Tobago national under-23 players, namely Zane Coker, Trevin Ceasar, Jamal Gay, Aquil Selby, and Nuru Mohammed along with two players who have been on the fringes of the senior Soca Warriors team such as Atullah Guerra and Akim Armstrong.
Missing from the team is regular captain Stephan David  who is injured, and star striker Devorn Josling who is expected to be in Guyana by the 28th presuming the team lasts that long.
In David's absence Golden Jaguars left-back Walter Moore will captain the Caledonia side during the competition and the 27-year-old defender said he was honoured to lead the team.
"It's a great honour to come back home to captain Caledonia in this Kashif and Shanghai tournament that I grew up playing in as a 16-year old. This team has some top Trinidad players and I will do my best to aid us in being victorious," said Moore confidently.
Team coach for the tournament Mulraine, a tough-tackling defensive-midfielder in his day who played 21 internationals for the Soca Warriors team from 1995-2004, said that his team will not be taking the local opponents lightly, since Guyanese football has shown its quality in recent times.
"Although we are confident in our abilities, we have no complacency towards the local teams. Guyana has given the TTPL a fair deal of quality players over the years and of course them knocking the national side out of the World Cup qualifiers further shows why we have to bring our A-game to this competition," said Mulraine.
He noted what a big incentive the first prize money of one-pound of gold is to his team.
"As professionals you play for accomplishment and for trophies. I don't think there is a tournament in the region where you can play for one pound of gold, so yes no doubt, this is a big motivational factor for the team."
Caldeonia will have their first training session this morning at the Eve Leary ground where the management suggested that they will invite some talented local players to train with them such as Trayon Bobb of Uitvlugt and Colin Nelson of Western Tigers.
The other foreign team in the competition Caribbean United of Barbados has also arrived in the country, but they went straight to Linden ahead of their December 23rd clash against Winners Connection.
Around the Web