CLEVELAND, Ohio, (Reuters)- LeBron James's triple  double was not enough to help the Miami Heat overcome the lowly  Cleveland Cavaliers, who beat the playoff bound Heat 102-90 on  Tuesday.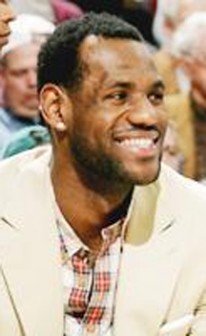 James, who left Cleveland last season to join Miami as a  free agent and was roundly booed by the crowd again — he first  returned home last December — ended with 27 points, 12 assists  and 10 rebounds.
The Cavaliers, who won 61 games last season but have  struggled without James to a NBA worst 15-58 record so far this  season, built a 23-point lead on Tuesday and held on to avenge  two previous blowout defeats to the Heat this season.
"The atmosphere is always good here and the fans are  unbelievable. Ive always said that," James told reporters  despite being relentlessly booed by the crowd. "It's great for  their team tonight. Its disappointing (for us) because we took a  step backward."
Miami clawed back to tie the game at 83-83 with 7:01 to go,  but Cleveland went on a 12-0 run to earn their surprising  victory.
J.J. Hickson recorded 21 points and 12 rebounds and Anthony  Parker added 20 points for the Cavaliers.
"All I want to say is you (fans) deserve this," Parker said.  "You guys deserve it because you've been so great for us all  year".
Dwyane Wade scored 24 points and Mike Bibby added 23 for the  Heat (51-23) who fell half a game behind the Boston Celtics for  second in the Eastern Conference.
Around the Web