The girl's Basketball Developmental Programme hosted by the Youth Basketball Guyana (YGB) continued yesterday at the Cliff Anderson Sports Hall from 12:30hrs.
The programme, which was created to broaden the skill level of female players by providing them with basic fundamental skills in an effort to improve the standard of female basketball in Guyana has already been deemed to be somewhat of a success by Coordinator of the YGB, Chris Bowman.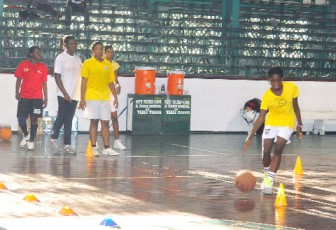 "Yesterday (Saturday) was excellent and the quality of girls we were able to attract was good, they already have a good idea of the fundamentals and the basic idea of offensive and defensive plays," Bowman stated.
While the programme will contain various drills, stretches and exhibition games that will be played among them, there will also be a ladies talk aspect where the young female players will learn how to carry themselves in different social manners.
The end of the programme will see a core of young females being selected for additional training for the upcoming Inter-Guiana games later in the year something that has not been done in five years according to Bowman.
Around the Web