OKLAHOMA CITY, (Reuters) – The Memphis Grizzlies  continued their magical playoff run by mauling the Oklahoma  City Thunder 114-101 on Sunday to draw first blood in their  best-of-seven Western Conference semi-final series.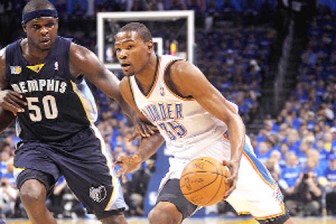 Fresh off a shock first round upset of the top-seeded San  Antonio Spurs, the eighth-seeded Grizzlies showed no signs of a  letdown against the Thunder, grabbing the lead midway through  the first quarter and never letting go.
Zach Randolph, the Grizzlies best player against the Spurs,  was again in the spotlight as he hit for a game-high 34 points  and 10 rebounds while Spaniard Marc Gasol also contributed a  double-double with 20 points and 13 boards.
Kevin Durant, the NBA's scoring champion, had 33 points and  11 rebounds in a losing cause for the Thunder while Russell  Westbrook had 29 points.
The Grizzlies, who dominated the Thunder during the regular  season by winning three of their four meetings, looked ready to  blow their opponents off the court in the opening half.
Paced by 14 points from Randolph, Memphis led by as much as  16 before taking a 57-47 advantage into the intermission.
The Thunder continued to chip away at the Memphis lead in  the third, quickly slicing the deficit to three, but the  Grizzlies dug in and weathered the storm, going on a 9-0 run to  end the quarter and regain control at 84-71.
The Grizzlies stayed on the gas in fourth, powering ahead  91-74 and never allowing the Thunder to get close enough to  threaten as they eased to another shock victory.
Around the Web