MIAMI, (Reuters) – Dwyane Wade played a key role in  creating Miami's 'Big Three', urging LeBron James and Chris  Bosh to join him at the Heat, and on Sunday he repaid them with  a stellar 38-point display as they beat the Celtics 99-90 in  their second round playoff opener.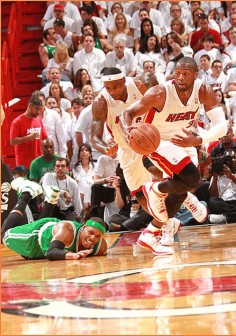 Wade had struggled in three of the four regular season  meetings between the two Eastern Conference powerhouses,  averaging 12.8 points on .281 shooting as the Heat went 1-3  against Boston.
On Sunday, though, the numbers were very different —  14-of-21 on shooting, 38 points, five assists, three steals and  two blocks.
"Dwyane is a special player, he really is," Heat coach Erik  Spoelstra told reporters. "I've said this so many times, he just figures it out."
When Wade is on form, his speed, agility, drive and accuracy make him a nightmare to defend. When you add in his extra playoff aggression — Wade ended up flying into row five at one stage — he becomes more than a handful even for the very formidable Boston Celtics defense.
"He has proven so many times during the playoffs that when the defense is at its best, he figures it out and finds a way  how to crack the code," said Spoelstra.
"They were very committed to getting the ball out of his hands and keeping him out of the paint. He is one of the most  dynamic midrange pull up shooters in this game."
Wade's performance was in a different class to the regular season and reminiscent of how he took on the Celtics in last year's first round when, despite his team losing the series  4-1, he averaged 33.2 points on .564 shooting.
"We were confident about it. He has been in this situation before," said Spoelstra who added that Wade's regular season  return had much to do with his lack of early season rhythm after missing the entire pre-season.
WADE'S SPEED
As always, when at his best, Wade's speed was what troubled Boston the most.
"Dwyane is one of the quickest guys in the league," said Bosh, who expects his team mate to face fresh challenges in Game Two today.
"He is a lot faster and quicker in the half court with the ball than LeBron. He can kind of work his way into different  creases.
"Every game is going to be different. They will make their  adjustments on Dwyane and that will give somebody else a chance  to be aggressive and see some spaces that they can attack on  the court."
But it was by no means simply a 'D-Wade Show' at a raucous  American Airlines Arena.
James Jones made a huge contribution off the bench, with 25 points including five three-pointers, and LeBron James weighed  in with 22 points while also being, as Spoelstra noted, a significant influence in other key areas.
"That was one of the most intelligent games that LeBron had all season," Spoelstra said. "He didn't force it, but he was aggressive.
"He was our primary post-up player, he got in the open court and he guarded four or five different matchups, including  centers.
"He had so many different responsibilities; because of his  intellect and his IQ he can handle it and not get out of  rhythm. A lot of guys lose their rhythm and get confused when  asked to play so many roles."
Around the Web