CHICAGO, (Reuters) – Chicago's Derrick Rose was in MVP  mode on Friday scoring a career-high 44 points to lead the Bulls  to a 99-82 win over the Atlanta Hawks as Dallas beat the Los  Angeles Lakers to leave the two-time defending champions on the  ropes.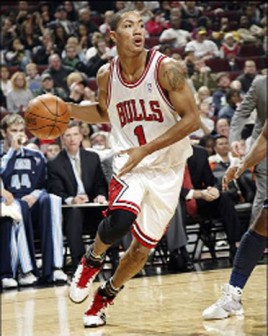 The Mavericks rallied from a seven point deficit in the  final five minutes to defeat the Lakers 98-92 and grab a  commanding 3-0 lead in their Western Conference semi-final in  front of a record crowd at the American Airlines Center.
In Chicago, the Bulls led from start to finish and had the  better of the Hawks in virtually every department to take a 2-1  lead in the best-of-seven Eastern Conference semi-final series.     Chicago got off to a quick start and nursed a six-point  advantage through the first quarter and their bench pushed the  lead to 13 before the starters returned.
"Derrick was in attack mode, obviously. He was attacking  from the start. When he's attacking, and not dancing with the  ball, he's impossible to stop," said Bulls coach Tom Thibodeau.
"He caught it on the run and kept going, he wasn't playing  around or letting them catch up."
Atlanta coach Larry Drew agreed and saw signs that Rose was  going to pose a problem right from the very start as he called a  timeout 45 seconds into the game after Rose's first basket of  the game.
"I saw an energy level that, right away, I knew we were in  trouble," Drew said. "When you play against an explosive guard  like Derrick Rose, you have to make a commitment to getting back  and making sure you try to keep him out of the paint.
"When I called the timeout, I knew right then and there that  my team had not made that commitment like we made in Game one."
The Hawks mustered one last push in the fourth quarter  trimming the lead to 11 points, but Rose responded with eight  consecutive points including two three-pointers.
Kyle Korver followed up with a three-pointer of his own to  push the lead to a game-high 22 points with just under five  minutes left allowing the Bulls to coast to victory.
Chicago connected on 10 of 20 three point attempts while the  Hawks were successful on only one of six.
In Dallas, the Lakers were left wondering how they let a  seven point lead evaporate so late in the game as 21,156 fans  cheered wildly.
Jason Terry's three pointer with two minutes remaining  proved key as the Mavericks claimed the lead at 91-89. Dirk  Nowitzki led the Mavericks with 32 points and sub Terry added 23  points.
Andrew Bynum played a strong game leading the Lakers with 21  points but Kobe Bryant and Pau Gasol struggled scoring 17 and 12  points respectively.
Around the Web