DALLAS, (Reuters) – Phil Jackson, the most successful  coach in NBA history, walked gingerly off the court for what is  likely to be the final time following the Los Angeles Lakers'  season-ending loss to the Dallas Mavericks on Sunday.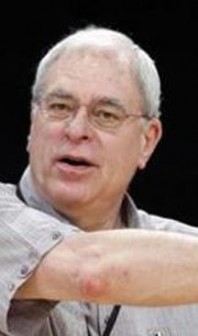 Having led the Chicago Bulls to six championships in the  1990s, and the Lakers to five since, the 65-year-old has called  it a career after his 20th season as a head coach.
"All of my hopes and aspirations are that this is the final  game that I will coach," Jackson told reporters after his Lakers  were swept from the playoffs in a crushing 122-86 defeat to the  Mavericks.
"This has been a wonderful run. I go out with a sour note  after being fined 35,000 dollars by the league earlier today."
The NBA fined Jackson earlier in the day for comments made  about the officiating in the series.
The penalty hardly detracts from the astounding career the  Hall of Famer Jackson has enjoyed, including the 11 NBA titles  and suffering just 10 playoff series losses.
There is considerable caution about declaring a definitive  end to Jackson's career as he has walked away from the game  before only to return after a break.
Jackson ended his tenure with the Bulls in 1998, and after a  one-year absence, joined the Lakers in the 1999-2000 season.  Following a loss with Los Angeles in the NBA Finals in 2004,  Jackson took another year out before rejoining the Lakers for a  second stint in the 2005-06 campaign.
Lakers All Star Kobe Bryant, who has won each of his five  titles with Jackson as coach, said he a hard time imagining  playing for anyone else.
"It's tough to put into words what he's meant for me,"  Bryant said. "I grew up under him. The way I approach and think  about things, a lot of it comes from him because I've been  around him so much.
"It's a little weird for me to think of what next year is  going to be like."
Around the Web