BOSTON, (Reuters) – LeBron James muscled his way to a  35-point, 14-rebound performance as the Miami Heat pushed the  Boston Celtics to the brink of playoff elimination with a 98-90  overtime triumph Monday.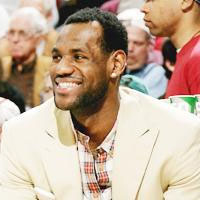 Dwyane Wade added 28 points as the visiting Heat moved  closer to vanquishing the defending Eastern Conference champions  by taking a 3-1 lead in the best-of-seven series.
Game Five is today in Miami where the Heat will attempt  to finish off the Celtics.
"What we're going to face Wednesday will be our greatest  challenge of this season," Heat coach Erik Spoelstra told  reporters.
"To put away a champion will be the toughest thing we've had  to do to this point."
Meanwhile, the Oklahoma City Thunder prevailed in a marathon  triple-overtime 133-123 win over the Memphis Grizzlies to even  their series 2-2.
Russell Westbrook scored 40 points and Kevin Durant added 35  and 13 rebounds as the Thunder overcame an early 18-point  deficit and now head home for Game Five on Wednesday in Oklahoma  City.
"This was a fun game. I was blessed to be a part of it,"  said Durant. "Playing games like this, it's what you live for,  this was exciting."
In last season's playoffs, Boston eliminated James and the  Cleveland Cavaliers, and Wade and the Heat on their way to the  NBA Finals.
This year, the Celtics are finding themselves overpowered by  Miami's new partnership.
Chris Bosh, who signed with Miami along with James in the  summer to form a "Big Three" with Wade to challenge Boston's  reign, added 20 points and 12 rebounds including a crucial  tip-in with 24 seconds left in OT to give Miami a 95-90 lead.
In a see-saw fourth quarter, the Heat held the Celtics to  just 13 points to force the extra session as Paul Pierce missed  a potential game-winner as the buzzer ended regulation time.
Miami scored the first six points of overtime to put the  veteran Celtics on their heels.
Pierce finished with 27 points and Ray Allen chipped in 17  for Boston.
Celtics point guard Rajon Rondo was limited after  dislocating his left elbow in Game Three on Saturday in a gutsy  performance that saw him play through the injury. He had 10  points and five assists on Monday.
In Memphis, the Grizzlies trailed 92-82 with under five  minutes left in the fourth quarter but Mike Conley made a  game-tying three-pointer with three seconds left to cap a  Memphis rally and force the first extra session.
Memphis' Greivis Vasquez drained a three-pointer in the  first OT to tie the game 109-109 and force a second OT.
Durant took over with six points in the final overtime to  send the Thunder on their way.
Zach Randolph recorded 34 points and 16 rebounds while Marc  Gasol put in 26 and 21 rebounds for the eighth-seeded Grizzlies  who continue to make an improbable post-season run.
Around the Web