By Treston Joseph
Neil Gordon single handedly lifted St. Stanislaus College over School of the Nations 79-70 to reach the final of the Youth Basketball Guyana (YGB) and National Sports Commission Schools' Basketball Championships in the Georgetown Conference Sunday evening at the Cliff Anderson Sports Hall (CASH).
With Nations seemingly having the advantage on paper with quality and skillful players along with a deeper quality of bench players,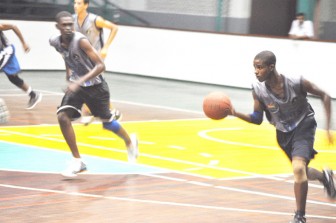 one would have assumed that Nations would have made it smoothly into the final.
Instead, a defiant Gordon scored 38 points dissecting School of the Nations' defense using a series of crossovers and finesse finishes at the rim with or without the defense trying to stop him, leaving spectators whether in support of St. Stanislaus or not either draw dropped at the points he just scored or in laughter at the defender's ankles he abused with his quick crossovers.
Gordon's only constant help came from the hands of Lorenzo Bethune who grabbed a double-double with 14 points and 10 rebounds.
Terrence Paton and Jonathan Pooran of Nations were the only two players on the other side of the court who  showed the grit to possibly overcome Gordon's relentless onslaught on their defense by scoring 20 and 19 points respectively, a combination of one point more than Gordon's total individual score.
Meanwhile Marian Academy strolled into the final with another dominant performance as they routed Queen's College 67-28.
Once again, Marian showed that they are the team to beat as they played fundamental team basketball with a zone defense that QC guard John Housty defined as "hard to penetrate".
Ruel Ritch top scored with 18 points while he was supported by Jequan Viera and Jonathon Beaton who scored 13 and 15 points respectively.
Akil Lewis was the only player in double figures for QC  with 10 points while Housty who led QC to numerous comeback victories seemed absent at times on the court and only managed 4 points.
Meanwhile Saints will meet with Marian Academy in the Georgetown Conference final on June 26 at the CASH.
Around the Web