Edward B. Beharry and Co. Ltd Champion brand yesterday renewed their support for the National Schools Basketball Festival organized by the Youth Basketball Guyana (YBG) and the National Sports Commission (NSC) at the company's head office in Charlotte Street.
According to President of the YBG, Chris Bowman the sponsorship will be a significant boost towards meals for the ten-day period when schools from out of Georgetown will be hosted at the Gymnasium for the Basketball Festival.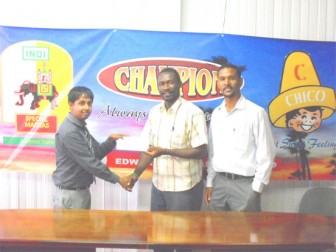 The commitment which has seen the growth and development of youth in the Basketball Festival will also aid in the addition of new awards to the tournament, namely the 'Sportsmanship' award for the team that shows the best sportsmanship as well as the individual who qualifies.
The Senior Class award will see the best senior collecting an award since it will be his last year in the competition.
The Coach-of-the-Year award will be a first time award and will go to the best coach of a team.
The Student/Athlete award will go to the person who  performs well both academically and athletically.
"We always saw this as a very good opportunity in order to support youths and encourage them to fulfill their dreams through sport. This is just one of our many attributes that we continue to make available to the Guyanese populace," Hashin Alli, Merchandising and Promotions Officer stated.
The YGB is currently in its conference stages and for the first time a nationwide format is being undertaken  and there will be about eight teams from out of Georgetown participating in the final rounds from next month, according to Bowman.
Around the Web