Linden Technical Institute (LTI) registered the highest team score last Monday when they dropped 106 points on President's College (PC) in the Division One quarterfinal of the National Schools Basketball Festival at the Cliff Anderson Sports Hall (CASH).
LTI's physical dominance in the post along with their penetrating wing players were too much for PC's players to adjust to as the game ended 106-50.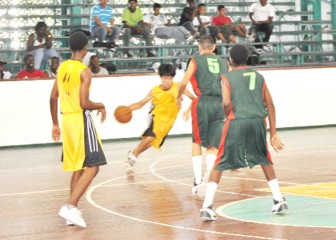 Jeffrey Larose's double-double led the way for LTI as he dropped 27 points and grabbed 10 rebounds while Marlon Pollydore fell one short of 30 points and had 8 steals. Weon Harry also chipped in with 17 points and 9 rebounds for the Lindeners.
Nyamebekyere Bacchus managed 15 points and 9 rebounds for PC with his only help coming from Durvash Roopnarine with 11 points.
St. Stanislaus College once again blew a double digit lead to go down to McKenzie High School 59-70 in their quarterfinal matchup.
St. Stanislaus, with their abundance of individual talent opened a 13 point lead over McKenzie High in the second half only to fall into complacency which has been a regular feature of their game that opened the door for McKenzie High to walk away with an easy win in the end.
Neil Gordon produced another outstanding performance for St. Stanislaus with a game high 25 points and 7 rebounds while Lorenzo Bethune who scored 17 points and collected 8 rebounds fouled out of the game with 13 minutes left on the clock.
Parrish Cadogan produced 21 points for McKenzie High in the comeback win while Kyle Stewart helped out with 13.
Meanwhile Nikkoloi Smith's 35 points, 7 rebounds and 7 steals for Plaisance Academy proved to be too little as Kwakwani Secondary withstood a late surge from Plaisance in the final minutes of the game that ended 63-68.
Dominique Douglas and Clevon Danjon scored 28 and 18 points respectively in their stand against Smith's relentless attacks at their defence.
In a Division Two matchup Queen's College (QC) put in another stellar performance as they routed Bishops' High School 53-28.
While Akil Lewis was impressive with his double-double of 14 points and 14 rebounds for QC it was his teammate Kitfai Sue who  showed a real sense of urgency in the game,  continually penetrating  the defence of Bishops' High that left his teammates wide open or got him to the strike for free throws. He ended on 10 points in the game. Daniel Haynes scored 17 points and pulled down 9 rebounds for Bishops' High in the blowout loss.
Meanwhile in the only girls matchup of the day Bobby's ASP Girls easily defeated Marian  Girls 18-5.
Denisha Layne scored 6 points, collected 5 rebounds and dished 4 assists in the game for Bobby's Girls while Arrianne Harris scored 2 points and 4 rebounds for Marian  Girls. Results: – Division One: St. Stanislaus College 59 – McKenzie High School 70, President's College 50 – Linden Technical Institute 106, Marian Academy 47 – School of the Nations 22, Plaisance Academy 63 – Kwakwani Secondary 68. Division Two: St. Stanislaus Jr. 48 – St Roses Jr. 11, Trust College 44 – Charlestown Secondary 33, Queen's College 53 – Bishops' High School 28.
Girls Division: Bobby's ASP Girls 18 – Marian Girls 5.
Around the Web