Dominic Vincente dropped 31 points to lead Trust College to a comeback win against Queen's College in a semifinal playoff of the National Schools  Basketball Festival at the Cliff Anderson Sports Hall yesterday.
The semifinal matchup organized by the Youth Basketball Guyana (YBG) and the National Sports Commission (NSC) eventually ended 57-49 in favour of Trust College.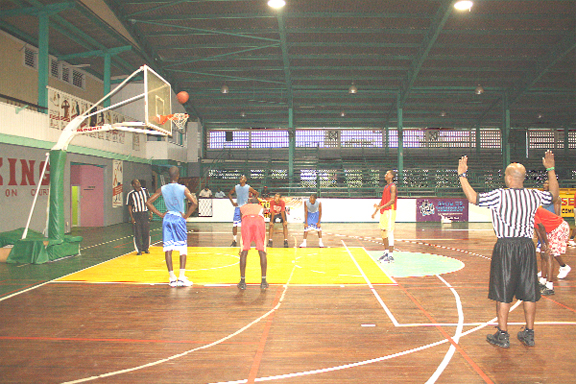 Vincente's  game IQ proved critical in the win as he furiously attacked a weakly set up 2-1-2 zone defence by QC which got them into early foul trouble, eventually causing them to lose the important encounter.
While QC played a better offensive team game which saw them ending  the first half ahead of Trust College 27-21, their defensive play was deficient as they rotated late to the offensive game of their opponents and this  contributed to their foul problems. Their star guard John Housty fouled out with 4 minutes left on the clock and the game tied on 46.
However, Vincente's constant drives to the basket were too much for the lacklustre defence of QC  to handle as they were booted out of the competition at the end of regulation time.
Tevin Tanner and Dellon Lewis ended in double figures for Trust College scoring 10 and 11 points respectively while Akil Lewis and John Housty provided QC with 16 and 11 points respectively.
Meanwhile in the other semifinal matchup New Amsterdam Multilateral was involved in another close encounter but held their composure to come out on top 28-24 against Charlestown Secondary.
The low scoring game saw intense defence being played by both teams making it hard for both parties to score the ball on the offensive end of the floor.
Tyroone Dey led NA Multilateral with a game high of 14 points and 6 rebounds while Mikhail Durant contributed 8 points and 5 rebounds to seal the win for the Berbicians.
Murtland Ward could only manage 9 points and 7 rebounds in the elimination loss.
Around the Web