The Wind Jammer Inter-national Hotel along with former junior national player Carey Griffith made a contribution of $100,000 yesterday to Guyana's National Basketball team now preparing for the 21st Caribbean Basketball Confederation (CBC) Championships in the Bahamas from July 23-29.
With the hope of Guyana returning to the CBC Championships, Griffith handed over the donation at the Waterchris Hotel. The money was split equally among selected players and he said that he was more than pleased to support the cause, according to a press release.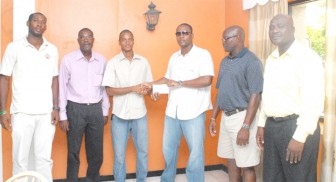 "I feel that I had to support this team because I know of the sacrifices they made to make the team and to go out there to  play.
I know that they will do us proud and I wish them all the best. Many of my teammates are on the team, so, I want the guys to go there  and play basketball like I know they all could," said Griffith who also plays for the Raven's Basketball Club.
Vice Captain Dwayne Roberts thanked Griffith for his initiative on behalf of the team and indicated that the players were appreciative of his gesture and assured that they will play to their optimum in the tournament.
Meanwhile Guyana's leading basketball website will outfit the national coaches with uniforms and shoes in Guyana's bid to contest the CBC Games.
The new FIBA courtside regulation indicates a dress code that requires the head coach and his staff to be properly attired. No short pants and jeans are allowed.
Head Coach Robert Cadogan and has assistant Lugard Mohan will be outfitted with black and white polo shirts bearing the Guyana Amateur Basketball Federation logo, black pants, black socks and black shoes.
Donations of 24 pairs of black socks and 24 pairs of white socks for the players along with 100 Guyana Basketball support wrist bands to be given as gifts to their Caribbean counterparts were donated by Guyanabasketball.com.
The donations will be handed over to the team in the Bahamas as Guyanabasketball.com executive and CBC Technical Assistant Patrick Haynes is scheduled to arrive there today to assist the Bahamas Basketball Federation and (BBF) and the Caribbean Basketball Confederation (CBC) with technical and project management of the championships.
Around the Web