SHANGHAI, (Reuters) – Standing seven-foot, six  inches tall and weighing 140 kilograms it is hard to imagine Yao  Ming being afraid of anything, but the Chinese basketball icon,  who retired on Wednesday, told Reuters he was "scared" after  being taken first in the 2002 NBA draft.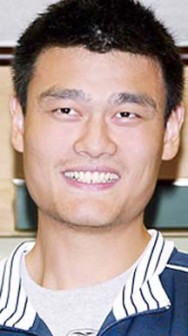 The former Houston Rockets centre, who opened up the world's  most populous country to the NBA and became an Asian sporting  icon, ended his professional basketball career at a packed media  conference in his hometown of Shanghai.
The 30-year-old told Reuters in an interview yesterday  that the prospect of plunging into the most competitive  basketball league in the world had shaken him.
"Sometimes you can use the word scared to represent my  emotional state at the beginning," Yao told Reuters at the  offices of the Shanghai Sharks — the Chinese Basketball League  team he now owns.
"The NBA is a place full of talent and before playing there  you don't know how small you are, even though I am seven foot  six," he added with a wide grin.
"The NBA is the highest level of basketball in the world.  Everyone dreams to be part of it and to compete with the best  players in the world and to show people what you can do.
"I was very fortunate to have that opportunity and have some  success in there, and that's enough."
One of the tallest players to have played in the NBA, Yao  was plagued by foot and ankle injuries towards the end of his  eight seasons in the NBA.
He played just five games in the final two seasons but said  he was happy to have walked away from the game while he still  could.
"I survived it. That's what I'm proud of," he added when  asked if he was frustrated that the injuries may have robbed him  of a career that was entering its prime.
Around the Web