The South Pacific Play Ground in Brooklyn came alive last Sunday as scores of overseas-based Guyanese turned out to witness the start of the three-game friendly series between Linden and Georgetown.
It was the second staging of the annual event contested between Guyanese basketball players who reside in the USA, hailing from the two powerhouse areas in Guyana's basketball.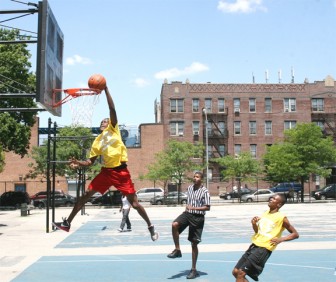 The city men, the defending champions, made a good start to their title defence and  a second trophy after they defeated Linden 83 – 78. Georgetown's line-up included former national player and Seton Hall Pirates Guard Desmond Herod, along with junior national point guard Richard Mohandatt and Ashford Johnson.
The Linden team, more known for their cohesiveness, included captain Odley Alleyne and former Wismar Pistons guard Sean Charles and Half Mile Bulls' Centre Terrence James.
Linden was plagued with numerous turnovers early in the game and Georgetown capitalized on the minor flaws and jumped out to an 11-1 lead which was extended to 20- 4.
But the former Bauxite mining town players then settled down and tied the game at 20-20 before  taking a one point lead (38-37) going into the second half.
Mohandatt (nine points, four assists and four steals)) dazzled the crowd with precise crossovers and ball handling skills as he unselfishly passed the ball to team mates.
In one play he (Mohandatt) brought the crowd to its feet as he penetrated the key, changed direction in mid air while switching the ball to his left hand to avoid three defenders and  scored.
But the day belonged to Johnson, who
continuously played above the rim with multiple sensational dunks and was later named the Most Valuable Player (MVP) with 25 points, three steals and three blocks.
Herod turned in a solid all-round performance, scoring 20 points, grabbing four rebounds and eight steals while former Junior National forward Ronald Alkins was the only other player from the side to hit double digits, scoring 10 points and grabbing four rebounds.
The other players to make it on the scorers sheet where Tristan Lake (3), Jude Weeks (8), Warren Butts (4), Marlon Thorton (2) and Randolph Goodluck (2).
Quami Moses (12), Kester Blair (11), Alleyne (10) and James (10) where the main driving force behind the Linden team's scoring since their usual front players, including Amelia's Ward Jets guard, Rockcliff Joseph who only scored seven points, seemed lost.
Laurel Bobb; last year's game one hero, scored nine points.
The series now shifts to the Police Office Edward Bayne Park in Queens, where Linden will attempt to level the series on August 7.
The final game is set for August 21 and will be played in Brooklyn.
Around the Web