Christopher Barnwell's Most Valuable Player (MVP) performance led the Celebrity Athletes to a marginal victory over the Celebrity Entertainers of the annual Celebrity Athletes versus Entertainers Basketball showdown at the Cliff Anderson Sports Hall last Sunday.
While the Entertainers team boasted more basketball profound players such as lawyer James Bond, team Captain Trevor Rose, Compton 'Kobe' Bobb and Joel Brown, it was the beast like dominance of Barnwell in the paint that fetched the athletes to a 43-39 win at the sound of the final buzzer.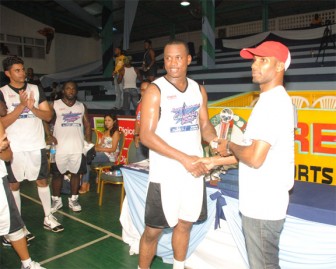 Although a few crowd pleasing blocks were seen during the game neither team played any type of substantial defense to really give either team a hard time scoring which gave Barnwell the opportunity to capitalize on the weak defense as he powered his way to a double-double scoring 20 points and grabbing 10 rebounds.
Barnwell's double-double also gave him the honor of being named the MVP for the fund raising event.
"Well, it's always a good feeling to come out and win.
"I just came out to give of my best to help the team win and that's what happened," the 2011 MVP told Stabroek Sport after the game.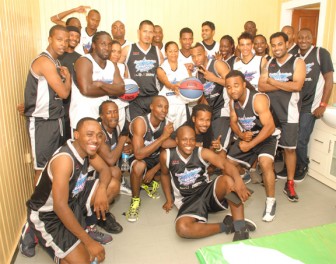 However, while Barnwell scored close to half of his team's total points he was assisted by Kiev Chesney and Edison Jefford who scored seven and six points respectively.
For the Entertainers, while there were some bright spots in their offense, only Rose and Jonathon Beepat registered some amount of offense as they each scored eight points.
Before the celebrity game, three other games were played to whet the appetite of the basketball fans in attendance.
The Youth Basketball Guyana (YBG) Elite were too much for the Knights Basketball Club to handle with YBG winning 44-31.
YBG's fast-paced game with the ability to run the fast break efficiently and effectively along with their well knitted 2-3 zone defense were more than enough to slow down the Knights offense as well as to get their defense off balance. Nikkoloi Smith scored a game-high  19 points for YBG while Knight's Jason Cort was the team's leading scorer with eight points.
Then, Qualfon trounced Giftland Office Max who was  without their star player Akeem 'The Dream' Kanhai who  played for the YBG Elite team 39-21.
Quacey Lindo scored a game-high 17 points for Qualfon while Kevin Cumberbatch scored nine points for Giftland.
In the first game of the night Laparkan outwitted Republic Bank to walk away with a 52-49 victory.
Jason Squires scored 18 points for Laparkan while John Fraser managed 11 points for Republic Bank.
Around the Web