(Fightnews) No one wanted to see Vivian Harris get brutally knocked out.
Especially Vivian Harris – which is why the former champ quit Friday night after a single round of weathering the storm that was Jesse Vargas.
A possible portent on the eve of the Erik Morales vs. Marcos Maidana fight proving that old guys don't hold up well to the young and hungry, Harris checked in the "Vicious" portion of his moniker, tied up and clinched, wobbled and prayed, then nearly went down at the bell as he sought to clear the cobwebs from his head before round two. He never got that far, for, in between rounds, Harris was lucid enough to know he'd seen enough, retiring, hopefully for good.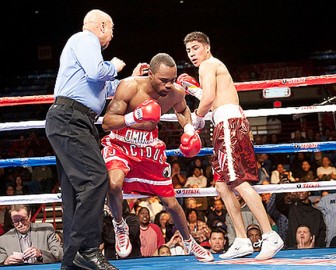 The near good-night, three-minute wake-up call was a scheduled 10-rounder on a Telefutura-televised card promoted by Golden Boy at Buffalo Bill's Star Arena in Primm, Nevada, 50 miles from the Strip.
The first punch thrown by Vargas sent a tremor down Harris' slim pins. Tying up and playing a rough game of survival, Harris was harassed non-stop by his aggressive victor, who was determined to end things quickly. With his back to the ropes for most of the round, Harris was mauled and bulldozed, his legs dipping dangerously at least twice before the round ended.
Seconds before the clanging of the second round bell, Harris informed referee Joe Cortez that he'd seen enough, handing Vargas a well-deserved though thoroughly expected win.
After a career of racking up wins over journeymen, Vargas, now 15-0, 8 KOs, adds his first former champ to his resume.
Harris, who has not won a fight since 2008, falls to 29-6-1, 19 KOs.
Around the Web