Guyana Amateur Boxing Association's 'Road to London Olympics 2012' programme got underway yesterday at the National Gymnasium with Director of Sport Neil Kumar urging participants to make the best of their opportunities.
Additionally, Kumar, speaking at the opening of the four-day coaching seminar, stated that the Government of Guyana is willing to lend its support to GABA especially since it wishes to see boxers returning home from the Olympics next year with more than one medal.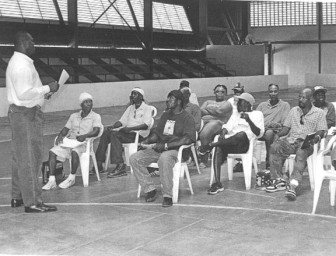 Kumar stated that the Sport Ministry "is putting measures in place" for an overseas coach to visit these shores at some point to work with the local body.
Kumar also called on the coaches to know the sport thoroughly so that they will in turn develop the club structure where they can identify young, emerging talents. The parliamentarian said that the government is concerned about the boxers and wants to see them  develop mentally, physically and psychologically.
He lauded the efforts of the GABA, which shortlisted 16 boxers for encampment one week ago, stating that after this effort boxers are expected to win "convincingly".
The programme, which will be coordinated by Terrence Poole, will focus on the fundamentals of the sport, history, techniques, sport sociology and avoiding sports injuries, among other areas.
Treasurer of GABA Sean Richmond said that the course will be held to "harmonise and standardise training" for boxers in Guyana. Further, he stated that he would like to see constructive discourse among participants of the programme.
Meanwhile, president of the association Steve Ninvalle opened his remarks by thanking Poole for his efforts at making the programme possible. He pointed out that it is not easy to move the sport in the right direction without persons who have the dedication, initiative and desire to see the sport thrive.
He stated that courses of this nature will also lead to more International Boxing Association (AIBA) programmes coming the coaches' way. This programme, according to Ninvalle, is part of the process to see amateur boxing regain the elevated standards it once had.
In closing he asked that the coaches be like a sponge, soaking up every piece of knowledge that will be imparted at the sessions.
Around the Web