For any boxer to get to new cruiserweight champion, Kurt Bess, he must first survive the wrath of his right hand.
This, however, is not a simple task or one for the faint-hearted.   Barbados-based Guyanese pugilist Cleveland Fraser learnt this the hard way – twice – when he was knocked out in the fourth round by Bess at the Mackenzie Sports Club (MSC) at the monthly Pro-Am card Monday night.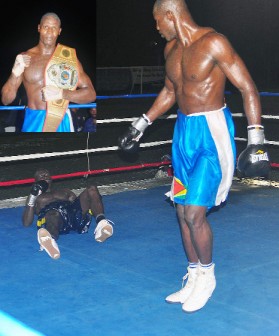 There was no rising again for him on Easter Monday night at the dew draped the MSC Ground. The activity in the ring, however, was fever pitch. From the first bell in front of a smattering of spectators, the always chiselled Bess went to work on dissecting Fraser and the first power shot that connected late in the frame sent the warning.
Fraser was sceptical of the close combat and therefore found solace in fighting from outside. However, Bess cut off the ring better and oftentimes cornered his opponent. Bess worked on the midsection to slow Fraser, whose punches proved ineffective after the first round.
In a systematic approach Bess worked the "kitchen" of Fraser before unleashing his power combinations to the head. By the fourth round, Fraser was beaten and bloodied and at two minutes, 25 seconds into that frame, Bess landed a crushing right hand to his opponent's head that had him crashing to the canvas.
After referee Eion Jardine administered the mandatory eight-count, Fraser was still dazed. Bess continued the punishment to Fraser's head and he failed to retaliate, and at 2:35, a  left-right combinations permanently closed out the contest.
Fraser hit the canvas as hard as he was hit. He lay there for a few seconds motionless before the medic attended to him. Bess indicated after the victory that it felt good to win the fight in such a manner and said  he will be looking to keep the belt for as long as possible.
In the first pro fight of the night, the experienced Cassius Matthews earned  a unanimous decision victory over Shawn Pile. Matthews worked his jab from the start of the fight while Pile seemed bent on landing one big punch to close out  the super lightweight contest.
This never came about and Matthews continued to rack up points on the judges' scorecards. Although, he landed very few power punches his plan was simple- frustrate the inexperienced Pile.
In the cruiserweight ladies bout, Veronica Blackman fought to a majority decision victory over her nemesis Pauline London.  Edmond De Clou scored an easy victory over Patrick Boston in another four-round fight in the super middleweight division.
In the amateur segment Randy Tello emerged victorious over Dennis Thomas, Bert Braithwaite defeated Akeem Alexander, Dexter Wray got the better of Troy Billey and Kelwin Josiah made light work of Valanzo Hackette.
Around the Web