The Guyana Amateur Boxing Association (GABA) will host a 'Road to London' programme on May 2 at the National Park playfield to facilitate preparations for the 2012 Olympic Games to be held in London, England.
According to Terrence Poole, who will be the Head Coach of the 18 shortlisted boxers, GABA wants its boxers to have the best chance to qualify for the prestigious event.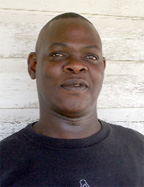 "We are looking at a core of boxers to put them into training and it doesn't mean that persons cannot be added or subtracted from the group, it's just a core we have identified to start with.
"There are a lot of competitions coming up, including the Pan American Games, the Commonwealth Games and three Olympic qualifiers next year in January, February and March so we just want to get them started early," Poole told Stabroek Sport via telephone.
The following boxers are asked to report to the National Park playfield on Monday at 05:30hrs:-
Troy Billey, Dexter Wray, Stephan Gouveia, Nankumar Singh, Berth Braithwaite, Eon Bancroft, Ron Smith, Kelsie George, Markember Pierre, Samuel Primo, Dennis Thomas, Marlon Darrel, Imran Khan, Keeve Allicock, Richard Williamson, Benjamin Henry, Marvin Ageday and Laurex Stewart.
The coaches are Terrence Poole, Wincel Thomas, Seibert Blake, Carl Franklin and James Walcott.
Meanwhile the GABA's National Novice's Championship which was to be held from May 6-8 at the National Gymnasium has been postponed to May 13-15 due to the unavailability of the venue.
Around the Web