HAMBURG, Germany, (Reuters) – British WBA heavyweight  champion David Haye called rival Vladimir Klitschko "a fraud" yesterday as the duo began verbal sparring ahead of their  unification fight in Hamburg on July 2.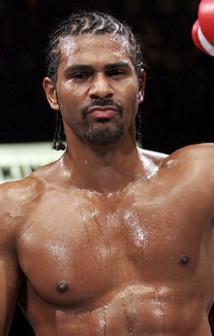 "I have seen his style and seen what he does in the ring and  he is a fraud," Haye, 30, told a news conference.
"I know what he is about. Even when I was a cruiserweight I  believed I could knock him out.
"For the first time he's fighting someone who's healthy, he  normally picks people who are injured or coming off a long  layoff. I'm a prime athlete in my peak coming off a nice long  streak of spectacular victories.
"He wears big shoulder pads in his gown and picks guys who  suit him perfectly but I am not fooled."
Klitschko, 35, who holds the WBO, IBF and IBO belts, hit  back by saying he was confident he could floor Haye by  unleashing his 50th career knockout punch.
NUMBER 50
"I really want that 50th knockout. It is like a golden  number," the Ukrainian said during the joint news conference.
"I really respect him. He is a great boxer with an  impressive record but I will be well prepared. David Haye is  going to be my 50th knockout.  "Forty nine fighters have been knocked out in the last 15  years and David Haye has completely disrespected them. I will  show him that he is just going to be another like the 49 before,  he will be number 50 on July 2, that is the way it is going to  be."
Klitschko and his brother Vitaly, who holds the WBC belt,  twice had fights with Haye called off in the past two years  after they failed to agree on the details for the much-awaited  unification fight.
Haye, who exchanged a stare-down with Vladimir that lasted  several minutes, has a career record of 25-1 with 23 knockouts.  His opponent's record stands at 55-3 with 49 knockouts.
"The boxing gods have decided July 2 is the date I become  unified champion," added Haye.
"I looked into (his) eyes for 20 minutes and visualised me  destroying him. I looked into his eyes and saw him beaten and  broken."
Klitschko could win the only remaining major belt that has  eluded the two brothers while a victory for Haye would drive a  wedge into the Klitschko careers, giving the Briton a shot at  all five belts
Around the Web