Guyanese fighters Stephan Gouveia and Bert Braithwaite lost their quarterfinal matches yesterday in the American Boxing Confederation's (ABC) third and final qualifiers in Panama City, Panama.
Gouveia, competing in the lightweight division, lost to Wellington Arias of the Dominican Republic 17-6 while Braithwaite went down 11-6 to Yoelvis Hernandez of Venezuela in the junior welterweight division.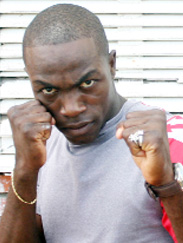 Gouveia had defeated Canadian Jag Sheera 13-11 while Central America and Caribbean (CAC) fighter Braithwaite had edged Uruguay's Johnny Gabriel Baccino Val to get to the quarterfinal.
They have also lost a chance to compete at the 16th Pan American Games, which is scheduled for October in Guadalajara, Mexico.
Comments

LAS VEGAS, (Reuters) – Undefeated five-division champion Floyd Mayweather Jr claimed a unanimous decision in a feisty encounter against Marcos Maidana to successfully defend three world titles and improve his record to 47-0 on Saturday.

Sakima Mullings scratched another Guyanese boxer off of his hit list Saturday night.

Up and coming pugilist, Kevin Mullings punched his way to the best boxer award yesterday when the first of two Demerara Distillers Limited (DDL) under-16 tournaments concluded at the Andrew 'Six Head' Lewis Gym.
LAS VEGAS, (Reuters) – It took just minutes after Floyd Mayweather Jr had scored a dominant win over Argentine Marcos Maidana on Saturday before the undefeated welterweight champion faced the inevitable question.
A nine-second knockout of Young Achiever's Anthony Miguel at the hands of Pocket Rocket Boxing Gym's Keon Williams highlighted day one of the Demerara Distillers Limited (DDL) two-day under-16 tournament yesterday at the Andrew 'Six Head' Lewis Gym.