By Emerson Campbell
A stunning knockout by Kwesi ' Ligtning Struck' Assassin Jones  brought the crowd at the Cliff Anderson Sports Hall to its feet on Friday last at the staging of the 17th edition of the ProAm Friday Night fights.
The surprising result occurred some one minute, 20 seconds into the ninth round when a vicious, lightning quick right upper cut from Jones connected to the chin of Cleveland Fraser and it was lights out for the Barbados-based Guyanese fighter who was challenging Jones for the national light heavyweight title.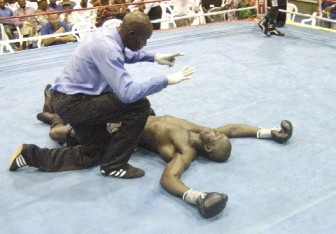 Jones, Guyana's reigning light heavyweight champion,  unleashed the blow to his opponent as they were coming out of a clinch on the ropes.
The shocking uppercut sent Fraser sprawling to the canvas for the full count and Jones's supporters including his mother into a frenzy. Going into the ninth round  Fraser was leading on all score cards and an upset seemed in the making.
The first round could have gone to any of the two, as both fighters were content on feeling out each other.
Rounds two through eight could have all been awarded to Fraser with round six being the most entertaining; Jones taunted and danced in front of Fraser as if his punches packed no power.
Jones stated that he adjusts his fight styles according to his opponents and his game plan for this bout was to wait until Fraser became exhausted before stepping up the pressure. Jones further added that his immediate plan is to capture the Caribbean Boxing Federation (CABOFE) light heavyweight championship by defeating the title holder Kirt 'The Technician' Sinnette.
He also sent a stern message to Lennox `Two Sharp' Allen, the undefeated CABOFE super middleweight champion which was:"I'm coming for you don't even blink!"
Meanwhile, Guyana's lightweight champ Revlon Lake defeated Cecil smith by a unanimous decision in a junior welterweight bout.
The Barbados-based Lake never seemed threatened by the dreadlocked Smith in the fight and landed several  clean punches throughout the contest especially in the third round when he landed a flurry of lefts and rights hooks that nearly floored Smith.
Lake, in an interview with Stabroek Sport, stated  that no one in his division wants to match gloves with him hence he had to step up a weight class for the fight with Smith.
He added that he wants to take on Ray Sandiford for all the bragging Sandiford has been doing.
Sandiford was also on the card, overcoming another Barbados-based fighter Gardell Roberts in a junior lightweight encounter.
The southpaw Sandiford, landed several hard left hands to Roberts's midsection on his way to a unanimous decision.
The always confident Sandiford stated  that he has no problems reaching Lake in the ring but it must be for his national championship.
He added that he wants to fight for the vacant junior lightweight title of Guyana before owning both CABOFE junior lightweight and lightweight titles.
On the distaff side, Pauline London defeated Veronica Blackman by a split decision in catch weight bout. Both London and Blackman fought at a reseved pace for the first two rounds but in the third stanza both fighters landed several telegraphed heavy right hand heaves.
The fourth round was more or less a surviving round for both Blackman and London as both fighters seemed  tired.
In  the amateur segment of the card, GDF's Eon Bancroft got the better of Pocket Rocket's Kelsie George in a highly entertaining middleweight contest. Both fighters started very aggressively with the taller George landing hard jabs and the stocky Bancroft landing effective straight rights.
The second round, however, saw both boxers fighting  at a slower pace, but in the third, Bancroft applied more pressure on George, landing several right hands and a deadly left hook that nearly dropped George.
After four standing eight counts, Bancroft was adjudged the victor by referee stops contest. (RSC)
In a one sided junior welterweight bout, Ricola Warrior's Marlon Darrel, knocked out GDF's Clairmont Gibson in one minute, 49 seconds of the first round.  The power hitting Darrel, overwhelmed the smaller Gibson with calculated body and head shots.
ALBA Games bronze medallist Imran 'Magic' Khan in his bantamweight debut, defeated Pocket Rocket's Richard Williamson by RSC after three eight counts and two warnings. The taller and busier Khan totally outboxed his shorter opponent.As promised, he used his superior jab and improved defence to frustrate Williamson. 'Magic' controlled the bout from start to finish although Williamson did give a good account of himself.
Youngsters Akeem Daniels and Romel Rowley from Harpy Eagles and Ricola Warriors Gyms respectively, fought in a highly competitive 85 to 89 pounds slug fest with both fighters giving a good account of themselves.
Rowley eventually won by two rounds to one on the Judges score cards.
Around the Web